Estimated read time: 3-4 minutes
This archived news story is available only for your personal, non-commercial use. Information in the story may be outdated or superseded by additional information. Reading or replaying the story in its archived form does not constitute a republication of the story.
SALT LAKE CITY — After running into a firestorm of public resistance last year over a proposed new Supercenter on Parleys Way, Walmart is back with a revised, and downsized, store plan the company hopes will find favor with neighbors and city planners.
However, early indications are that the company will face stiff resistance once again in garnering zoning changes necessary to put up a new building on the site of a former Kmart near 2700 East and Parleys Way.
Walmart's community affairs spokeswoman, Delia Garcia, said Monday that the company, based in Bentonville, Ark., reached out to neighbors, city officials and other stakeholders in formulating a new plan that scales back the original 120,000-square-foot store to a 92,000-square-foot hybrid store that would have many of the amenities of a supercenter but in a smaller package.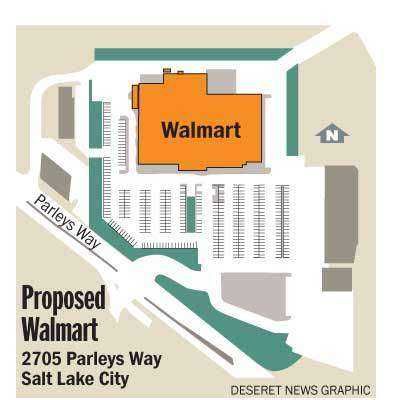 "It's a better plan that reduces the store size by 23 percent," Garcia said. "It will offer much of the same selection of goods and services, including groceries, as our supercenters."
Garcia said other amenities are part of the proposal, including a green building approach, a site plan that allows for companion development, enhanced landscaping and greenways and a design scheme that "better integrates with the East Bench master plan … and reflects the myriad input that we received."
Sugarhouse Community Council Chairman Philip Carlson said, despite claims of major changes, the plan is not much different from the one the company retracted in April 2009 after running into criticism from residents and a negative recommendation from the Salt Lake City Planning Commission.
"This is a great area for urban, mixed-use development on a walkable scale," Carlson said, "not a 100,000-square-foot suburban box store."
Carlson said current zoning law, which limits new buildings to two stories and 20,000 square feet, is appropriate for the near term, and future, and fits well with nearby residential areas and smaller commercial properties.
"If we change the zoning and allow a large building to go in, it'll be here for the next 30 or 40 years," Carlson said.
Salt Lake City Councilman Soren Simonsen met with Walmart executives in Bentonville in February and said he heard "a lot of good concepts" discussed. However, like Carlson, he doesn't see a lot of "new" in the revised plan.
"If they could follow these statements with implementation, we could have a win-win," Simonsen said. "But, the proposals we keep getting are inconsistent with the message they're putting out."
Garcia said the company conducted a poll of nearby residents to get a feel for how the changes would go over, and 300 registered voters "responded positively to components of a new building."
Salt Lake Planning Division Director Wilf Sommerkorn said that even though the company has been through the city's approval process before on different plans for the same site, the new scheme starts back at square one.
"By ordinance, we're required to submit the plan to the relevant community council, who have 45 days to review it," Sommerkorn said.
Simonsen predicted the process will take months, and he doesn't expect to see anything at the City Council level until late winter or early spring.
E-mail: araymond@desnews.com
×
Related stories
Most recent Utah stories