Estimated read time: 2-3 minutes
This archived news story is available only for your personal, non-commercial use. Information in the story may be outdated or superseded by additional information. Reading or replaying the story in its archived form does not constitute a republication of the story.
OREM -- A prominent building on the campus of Utah Valley University was renamed Monday. The events center on campus brings an estimated half million people a year to UVU for basketball games, concerts and other events.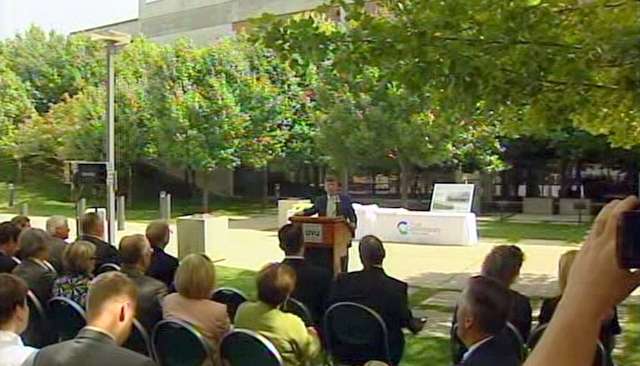 On Monday UVU officials announced that Utah Community Credit Union has agreed to purchase the naming rights to the building over the next 10 years, in a deal worth $2.5 million.
The naming rights to the building became available during the winter when UVU moved the David O. McKay name from the events center to the education building on campus.
Since then, the university has been shopping for a sponsor, and Monday it was announced that Utah Community Credit Union will pay $250,000 a year to have their sign on the building and included in the name of the arena. It will now be known as the UCCU Center.
School leaders called it a win-win situation for students.
Matthew Holland, president of Utah Valley University, said, "It comes as such a needed time. We're facing record-breaking enrollment growth. We're likely to break 30,000 students in the next couple of days. And this is at a moment of shrinking public resources, so this money and money we can reliably count on in the next 10 years will be very helpful for us, moving the institution forward."
Holland said funds from the naming rights will go toward scholarships and educational programming with a portion also going toward UVU's athletic program.
"I've been struck by the prominence UVU has gained recently and the vital role it plays in educating our kids," said Jeff Sermon, president of UCCU, referring to the university's growth over the past several decades.
The sign unveiled Monday is a temporary sign. A new lighted permanent logo will be installed in the next few weeks.
E-mail: spenrod@ksl.com
×
Related stories
Most recent Utah stories