Estimated read time: 3-4 minutes
This archived news story is available only for your personal, non-commercial use. Information in the story may be outdated or superseded by additional information. Reading or replaying the story in its archived form does not constitute a republication of the story.
Deanie Wimmer ReportingSomething many Utah teens consider fun, could be a felony. And increasingly, kids don't make the distinction until it's too late.
We have some horror stories that may help your teens Stay Safe.
The state's chief of law enforcement says this is a problem in every Utah high school: kids with cell phone cameras, and pictures they send at the push of a button. They're pictures the kids and their families may come to regret.
Eric Olson says, "She took a picture of herself, and it was really revealing."
Some kids do it as a joke.
"It think it was kind of a joke, but the joke's gone bad."
Other times, it's a mean prank.
Tommy Adams told us, "They took a picture of me in the bathroom. Nobody should take a picture of anybody in the bathroom."
Sometimes, it's in hopes of a date.
Jake Larsen says, "These girls I date, or whatever, like to show off their stuff."
Kids and cell phones share more than conversation. The pictures they send and post on Web sites like MySpace can have unintended consequences.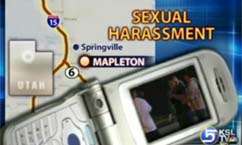 Emily Bryson says, "Some of my friends took pictures of a few of them in bras. One of them thought it was funny and mistakenly sent it to someone and it ended up getting around our whole school." Her friend Lohren Morrison adds, "And parents found out."
Embarrassment awaits many of those who pose. But investigators are seeing outcomes much more serious.
In Mapleton, police investigated a case of possible sexual harassment; boys videotaped themselves hitting a girl's rear end.
In San Juan County, investigators considered pornography charges against a group of boys who refused to give some girls in their group a ride home from the mountains until they took nude pictures of themselves. Many girls did. The boys distributed the pictures.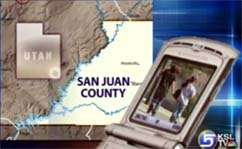 Also in San Juan County, a boy who had relations with a married woman sent around pictures of them together. Court documents show the husband confronted the boy on the side of a gravel road and assaulted him. The husband and wife went to jail; the teen may still face charges.
In many cases, the calls to investigators come from devastated fathers.
Ken Wallentine of the attorney general's office explains, "He was able to get into MySpace and see his beautiful daughter coerced into doing something she was ashamed of and wanted to take back but couldn't."
And to make matters more serious, if the teens posing took the picture with their own phone camera, they are the person who's producing child pornography and committing a felony.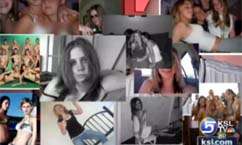 Times have changed. Back in the day, if you took a compromising picture of someone and thought it was funny to post on a bulletin board or on campus, you could get in trouble, maybe go to the principal's office. Today, if you take that picture with your phone and post it on a virtual message board, you could go to prison.
There are serious repercussions from some Friday-night fun. That's why the state is making an appeal to kids to think twice before they push "send."
Ken Wallentine warns, "It may be fun and games for the boy, and it may even be fun and games for the girl, until both parties realize that picture's out there now. This is an innocence you don't recapture."
The Stay Safe message is one of awareness for parents and young people. Technology has made this so easy and widespread. It's much easier to use and teach restraint - and prevent problems - than to undo the damage.
×
Most recent Utah stories