Estimated read time: 2-3 minutes
This archived news story is available only for your personal, non-commercial use. Information in the story may be outdated or superseded by additional information. Reading or replaying the story in its archived form does not constitute a republication of the story.
MURRAY -- Murray City Power crews have restored electricity to the west side of Murray following a traffic accident.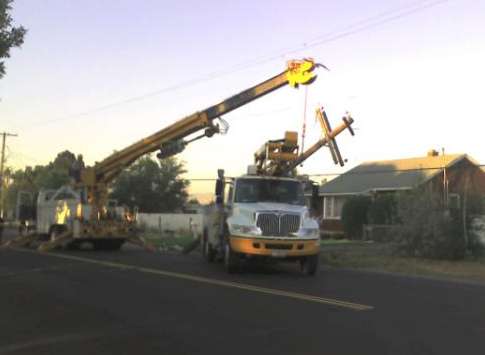 Police say a driver slammed into a power pole in the area of 6600 South and 700 West around 5:30 a.m. Monday then fled.
"I thought it was a transformer at first," Layne Kelsey told KSL Newsradio. "Then a bunch of arcing and stuff was going on and the line hit the ground."
Kelsey says the power line left behind a 200-foot line of flames. Sparks started a small brush fire, but it burned itself out.
"We were about to get out of the driveway to take the kids to school this morning," Paul Roesberry said. "Luckily, they let us out to do that."
The wreck knocked out power roughly between 6000 South and 7000 South from 700 West to Interstate 15.
Murray police Sgt. Paul Christiansen says investigators located a damaged box truck blocks away, behind the WinCo store at 7020 S. 700 West. They believe it's the vehicle that hit the pole. The truck belongs to an unspecified business.
Investigators at this point are unclear on who the driver was and are following up on leads. They do not believed the truck was stolen.
Southbound traffic on 700 West was closed at Winchester as crews worked to clean up the mess and restore electricity.
E-mail: aadams@ksl.com
---
×
Photos
Most recent Utah stories