Estimated read time: 2-3 minutes
This archived news story is available only for your personal, non-commercial use. Information in the story may be outdated or superseded by additional information. Reading or replaying the story in its archived form does not constitute a republication of the story.
Brooke Walker Reporting Bambi beware! Girls with guns are coming your way. The state of Utah has issued more hunting permits to women this year than ever before.
At Cabellas people are frantically trying to get ready for this weekend's big hunt. This weekend, along with the guns and ammo, some hunters are being sure to pack the lip gloss and hairspray, as well.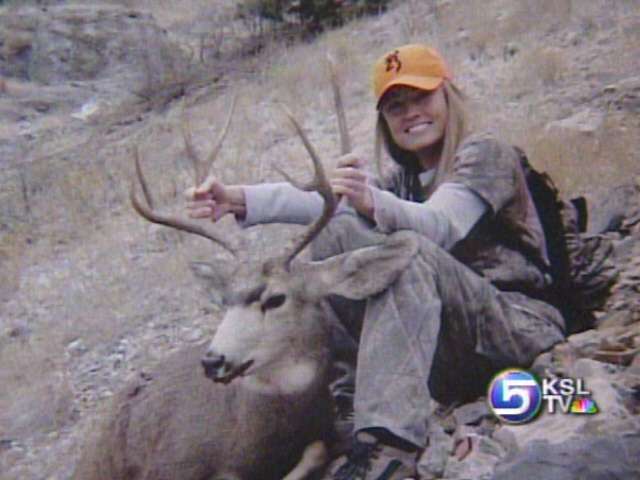 Michele Walker is the typical wife and mom, but each fall she takes on a slightly different role.
Michele Walker: "I'll go out with the girls and have girls night and we'll go get manicures and pedicures and then on the weekend I'll go hunting."
That's right---hunting.
Michele Walker: "I just like being out there and the whole stalking the animal."
Jef Walker, Michele's Husband: "For me it's mostly just embarrassing because she kills bigger animals than I do."
Michele's husband Jef, is also a hunter and says it's been a sport they've enjoyed together.
Jef Walker: "It's a bonus that we enjoy doing the same thing. I was really lucky."
He says Michele inherited her good shot from her Dad who used to take her target shooting when she was a little girl. It's been a part of her life ever since.
Michelle is not alone. More women are taking part in the sport than ever before. According to the Division of Wildlife Resources, so far this year more than 7% of all hunters are women.
Michele Walker: "I got a few surprised looks from men that I was out hunting and hiking alone. They asked, 'what are you doing out here along?' Just hunting."
Michele got her first big kill last year, proudly bringing home a four-point buck.
Michele syas she is proud to be an "outdoors woman" and hopes more females will join in the fun.
Michele Walker: "Lots of women ares starting to do it. I think it's great."
A representative from Wildlife Resources told us, often women can make better hunters than men because by nature, women are generally more alert and attentive. Hopefully, those qualities will help Michele and other "deer hunting divas" this weekend.
×
Most recent Utah stories