Estimated read time: 1-2 minutes
This archived news story is available only for your personal, non-commercial use. Information in the story may be outdated or superseded by additional information. Reading or replaying the story in its archived form does not constitute a republication of the story.
(KSL News) East met West in Promontory, Utah, 138 years ago today. It was the completion of the Transcontinental Railroad.
About 1,000 people were in attendance when "The Jupiter," traveling east, met train Number 119, heading west, on May 10, 1869.
But those now-famous trains weren't the first choices for the Golden Spike ceremony. And May 10 wasn't the original day planned for the historic meeting.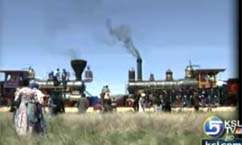 The train carrying Central Pacific's president, Leland Stanford, was originally pulled by a locomotive named "Antelope." But on its way to Promontory it hit a log and couldn't continue. So in stepped the "Jupiter."
On his way to the ceremony, Union Pacific Vice President Thomas Durant was forced to stop in Piedmont, Wyoming, where hundreds of angry laid-off tie cutters waited to be paid. Durant's coach was chained up until the men's money arrived two days later.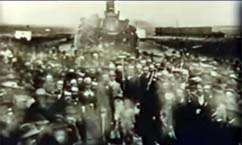 The delay forced the ceremony to May 10. And when Durant's locomotive reached the Weber River, it was too heavy to cross the weakened Devil's Gate bridge. So instead, it nudged the coaches across, which coasted to the other side.
But, Durant was now without a locomotive. So Number 119 out of Ogden came to the rescue.
Today, there will be a commemorative program, a reenactment and replica locomotives. On this anniversary last year, Utah's commemorative state quarter was revealed, which features the famous moment in history.
×
Most recent Utah stories