Estimated read time: 3-4 minutes
This archived news story is available only for your personal, non-commercial use. Information in the story may be outdated or superseded by additional information. Reading or replaying the story in its archived form does not constitute a republication of the story.
SALT LAKE CITY -- A Café in Salt Lake has discovered there's a growing appetite for its altruistic approach to business. There's no set menu, you pay what you can and a national chain is even testing out the business model.
Eight years ago, One World Café opened up at 41 S. 300 East with a simple goal: feed hungry people in the community with good organic food. There was no cash register, and diners paid whatever they thought was fair.
Now, research shows that model works, and others are eager to learn the recipe.
One World Café

Where: 41 S. 300 East Salt Lake City
Hours: Monday - Saturday: 11 am - 10 pm
Sunday: 9 am - 5 pm
What: No menu, no prices. Customers pay what they want.
For more information click here.
KSL caught up with the lunch crowd at One World as they enjoyed the best balanced meal head chef Giovanni Bouderbala dreamed up Friday: salmon and crab cakes, organic stir-fry vegetables and vegan chocolate cake for dessert.
The restaurant now has a cash register and a board with suggested prices, but you still pay what you want, or you can work for a meal.
"In One World, we're all here in the same place," says Bouderbala. "We can help each other. Somebody else will drop a couple extra bucks for you. That's how it works."
Then you drop a couple of extra buck for them, when you can.
The original owner now consults businesses nationwide that are giving the concept a try. Panera Bakery, a national chain, now runs a pay-what-you-want store in St. Louis and plans to open two more.
Jude Higgins, an anthropology professor at Salt Lake Community College, started to research One World soon after it opened because it was modeled around the concept of virtue.
"What we found is that people like the philosophy," Higgins says. "They go because of the philosophy, they pay because of the philosophy. They think it's a great idea and concept."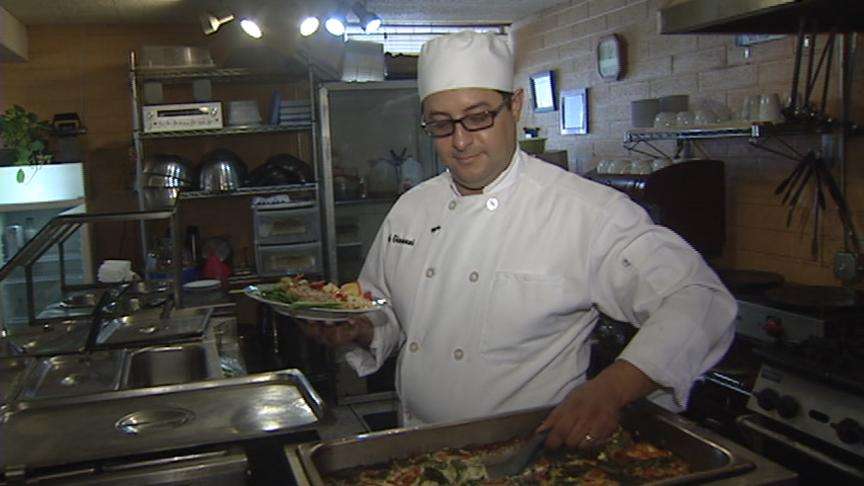 She discovered One World Café is the first business to operate a successful for-profit, pay-what-you-want business in the world, though it has since become non-profit.
Higgins has since presented papers on the topic at Human Behavior and Evolution Conferences in Kyoto and Berlin. Her work details the set of conditions that allow for successful cooperation between humans in business.
Among her findings: People do not pay more just to show off, and the model works best when patrons feel they know each other, as regulars might.
"People at One World don't necessarily see themselves as more altruistic, which is interesting, because they behave that way," she says.
Higgins' research suggests that the business model has a way of making us more accountable for our actions, and less anonymous. So if there were even more businesses like this throughout the world, that model might even have an impact on society.
"It can branch out in all kinds of different areas," Higgins says. "If the environmental circumstances are right, people are going to cooperate."
She also discovered much more research is needed in this area.
Brian Meacham liked the food and the concept so much as a customer, he's now on the board of directors of One World, Everybody Eats. He calls it a sustainable community kitchen, even in tough times.
"It's been nipping and tucking on occasion," he says, "but I think it's the community that keeps this place going."
On top of fantastic food, the chef says people like the feeling they get.
"You participated in something exciting," says Bouderbala. "You helped somebody else. You probably don't know the person, but that person could be your neighbor, and that's how it works."
From an evolutionary standpoint, Higgins points out we have a long history of food sharing, so the model may work better for a café than a lumber yard. Still, it's remarkable that a café lends itself to the study of virtue, self-interest and society itself.
E-mail: jboal@ksl.com
×
Photos
Related links
Most recent Utah stories