Estimated read time: 2-3 minutes
This archived news story is available only for your personal, non-commercial use. Information in the story may be outdated or superseded by additional information. Reading or replaying the story in its archived form does not constitute a republication of the story.
PARK CITY -- Crews are busy setting up stages and tents for the Park City Kimball Arts Festival, getting ready for the artists and guests expected to attend as the festival opens Friday.
For six artists from around the country, it's their first time ever showing their work. It's part of the Relevant 2010 program, designed to get new artists exposure early in their careers.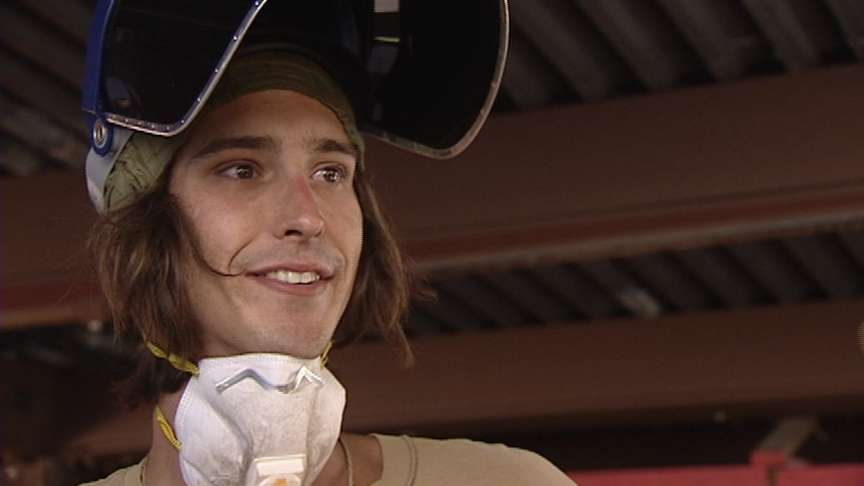 These featured artists are still in school, or fresh graduates.
Jason Fischer came from Kalamazoo, Mich. "It's nice to get away from real life and come to Park City and be with other artists and professional artists," he says.
That's what the new Relevant 2010 is, a chance for budding artists to learn from others in the profession.
"I've learned a lot more about steel, different ways of cutting and welding," Fischer says.
Nicole Penoncello is another artist picked for the residency. "Not only have I learned to work on deadline and set deadlines, I've got a lot of great feedback from a variety of artists," she says.
Kimball Arts Festival 2010
Park City's historic Main Street

Hours
Friday, August 6, 6:00 p.m. - 9:00 p.m.
Saturday, August 7, 9:00 a.m. - 7:00 p.m.
Sunday, August 8, 9:00 a.m. - 6:00 p.m.

Admission Friday, $3 suggested donation per adult
Saturday, $10 adults, 12 and under free, tickets purchased on Saturday may be used for entry on Sunday.
Sunday, $10 adults, 12 and under free
The six upcoming artists arrived Sunday, and besides learning and meeting other professional artists, they've had to create a piece,
Penoncello is working with mixed medium, making a mini Park city museum.
Mike Amici, the only student picked from Utah, is working with oil and acrylics. Fischer is working with steel to create a large doorknob.
The theme they've worked with is "Open Doors." Their art will be auctioned off opening night of the festival.
"It's kinda, I don't know, scary, to see how everyone reacts to a piece," Fischer says.
No matter how much their works go for, it's what they've learned that should really pay off.
"I hope they learn about how to approach galleries, to think about art now that they are making it commercially," says Robyn Marrouche with the Kimball Art Center
Fischer hopes people like his work, and that it brings in lots of money -- he will get half of the profit.
The festival runs Friday through Sunday.
E-mail: abutterfield@ksl.com
×
Photos
Related links
Most recent Utah stories