Estimated read time: 2-3 minutes
This archived news story is available only for your personal, non-commercial use. Information in the story may be outdated or superseded by additional information. Reading or replaying the story in its archived form does not constitute a republication of the story.
Samantha Hayes ReportingUDOT says a stretch of I-215 east has been a problem for years. Tonight they start the repair job.
Nile Easton, UDOT: "It's a very busy road. Limiting it down to one lane could see heavy delays."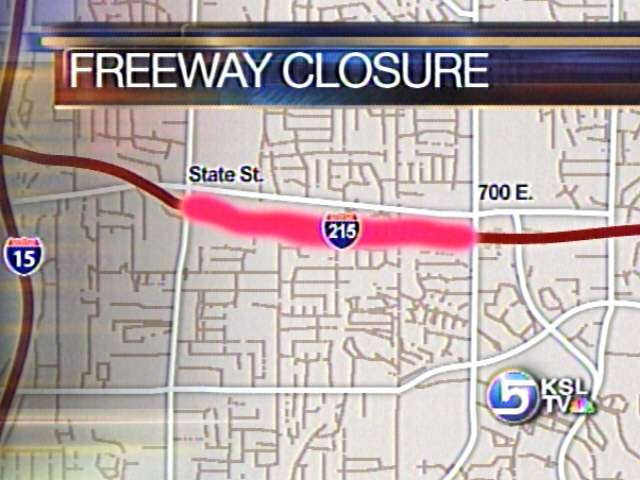 Crews will start the project tonight, and at that point- I-215 east will be limited to two lanes and down to one lane at 9:00.
They are trying to fix a problem that happens when it rains. That part of the road does not drain well, and when it rains cars hydroplane, causing dozens of accidents over the years.
When it rains drivers see a warning about standing water from State Street to about 2300 East.
Nile Easton: "It's a situation where over the years ruts have formed in the concrete. So we took a survey crew out there to see what was happening, because it wasn't draining as well as other portions of the freeway."
Drivers have lost control when their cars hydroplane in those conditions. That's what happened to 17-year old Jenna Barenbrugge two years ago. She died when her car veered out of control.
Belinda Barenbrugge, Mother, May 2005: "My hope is that other people will not have to suffer the way my family has suffered."
The family filed a lawsuit against UDOT over the condition of the road. The case has not been decided. But UDOT will start rebuilding the road from state street to 5th East..
Nile Easton: "It's been on the books for a long time. It's just we finally got the funding to do it. It's going to cost 350-thousand dollars to fix it."
For the next two weeks only two eastbound lanes will be open in that area.
Nile Easton: "It's basically like building a new road. We have to go through, jack hammer out the existing concrete and come back and repave the new concrete."
There are some possible alternate routes. You can use I-15 northbound to I-80 east. That's also the suggested route for truck traffic.
University of Utah traffic should take I-15 northbound to 600 South.
Also important to note, the State Street on-ramp to I-215 eastbound will be closed. As the alternate route for that, drivers should take I-215, take 7200 South to Fort Union Blvd.
×
Related links
Most recent Utah stories