Estimated read time: 3-4 minutes
This archived news story is available only for your personal, non-commercial use. Information in the story may be outdated or superseded by additional information. Reading or replaying the story in its archived form does not constitute a republication of the story.
SALT LAKE CITY -- A year and a half ago, a local cookie store opened for business. Now, a lawsuit could eat up all of its profits.
When the owner picked the name "My Dough Girl," she says she went through the proper procedure -- including checking on any copyright infringement.
Now that the business has grown in popularity, a big corporation is threatening to take her to court.
Every day, bakers at My Dough Girl prepare dozens of their gourmet cookies. The lunch crowd fills the downtown store at 770 S. 300 West in Salt Lake City, hoping one of the lovely ladies on the menu cures their sweet tooth.
Every cookie is named after a "Dough Girl" -- a glamorous vintage pin-up.
Morning baker Kelsey Sitton lists some: "Virginia, Trudy, Penelope, Vivianna... The Judy is orange dough with a cream cheese frosting."
The cookies -- and girls -- are unique. But it appears a mega-cookie manufacturer is concerned consumers may confuse the Dough Girls with the Dough Boy.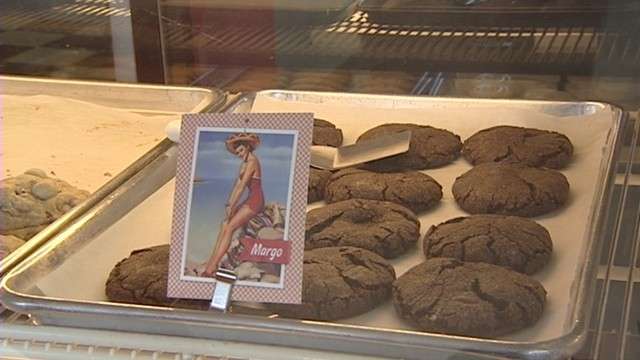 The owner of My Dough Girl received a legal "cease and desist" order from Pillsbury in May, stating she had to change her business name or face a lawsuit.
My Dough Girl's owner Tami Cromar is so worried about the possibility of litigation she wouldn't go on camera. One of her employees would only say this about their legal woes:
"Unfortunately at this time we can't really make any comments about that. Hopefully everything will be resolved with that in the near future," Sitton said.
But that hasn't stopped hundreds of their supporters on Facebook from speaking out against the baking giant that's targeting their favorite local cookie shop.
The Facebook group was started by food blogger Joshua Shimizu, who is hoping to get enough people to voice support and get Pillsbury to back off.
"I'm not so sure that this is a fight that they should even be worried about," Shimizu said.
While My Dough Girl appreciates the support, they will change their name rather than fork out the dough a court case would cost.
The owner says that's just the way the cookie crumbles.
Cromar says it will cost around $50,000 to complete the name change. She hasn't picked a new one yet, but says the cookie names will stay the same.
She adds she will go through extensive research to make sure the new name has no connection to any other company.
------
Story compiled with contributions from Jennifer Stagg and Marc Giauque.
×
Photos
Related links
Related stories
Most recent Utah stories