Estimated read time: 2-3 minutes
This archived news story is available only for your personal, non-commercial use. Information in the story may be outdated or superseded by additional information. Reading or replaying the story in its archived form does not constitute a republication of the story.
Sam Penrod and Randall Jeppesen Reporting The concern for West Nile Virus here in Utah is getting closer to returning. It's an illness that spreads through mosquitoes and last year four people in Utah died from complications.
The battle against the mosquito is officially underway, as counties throughout Utah gear up to fight the spread of West Nile Virus, and chickens will be the first to sound the alarm when West Nile starts to spread. The chickens here have a good track record of testing for West Nile Virus; last year when the chickens started testing positive, human cases weren't far behind.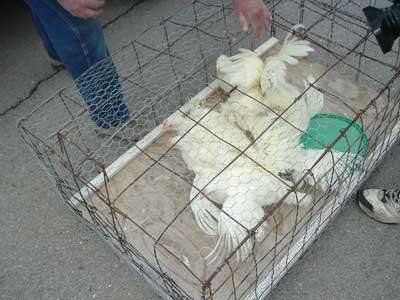 "We've been picking up larval mosquitoes for several weeks actually," says Utah County Mosquito Abatement Director Robert Mower. He says it's hard to predict how bad West Nile will be this year.
Dr. Joseph Miner, with the Utah County Health Department, said, "We are distributing these sentinel chickens today to be monitored every week for West Nile Virus in their blood, and we'll notify the public when it's been identified."
Last year 65 people tested positive for West Nile in Utah County alone. Only about one in every 150 people who are actually infected ever show symptoms. Still, West Nile is something to take seriously, as four people in Utah died from it last year.
"Middle age people and elderly people have an extra high risk of having complications from this infection, but serious complications come at any age," Dr. Milner said.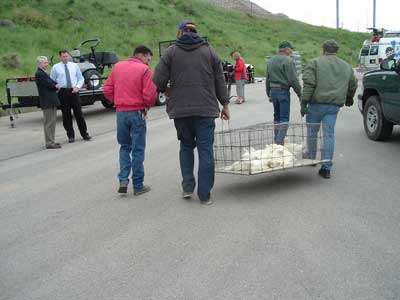 While West Nile is relatively new to Utah, some counties have yet to see any cases, which means it will get worse before it gets better. Dr. Milner explains, "The typical pattern in other states is for you to have a gradual buildup year to year and it peaks and then it goes down."
The best way to avoid West Nile to to use insect repellent with DEET and to cover up, especially in the evenings. The time to start taking precautions is getting closer.
"Starting in June and July is when you see West Nile Virus start to spread among birds; and then the mosquitos spread it from bird to bird into humans and horses, which suffer complications."
When West Nile starts to spread, those chickens will help sound the alarm. The chickens are kept in groups of five and are located in areas all across Utah, where they are tested every week through the summer. Mower says last year in Utah County they first detected West Nile in the second week of June.
Salt Lake Mosquito Abatement Manager Sam Dickson says the chickens do their job well, but they try not to get too attached. "We've never named our chickens. We remember them by their numbers because there are some chickens that when you take a blood sample are a little easier than others."
×
Most recent Utah stories