Estimated read time: 2-3 minutes
This archived news story is available only for your personal, non-commercial use. Information in the story may be outdated or superseded by additional information. Reading or replaying the story in its archived form does not constitute a republication of the story.
Keith McCord ReportingCome to Utah and ski the Oquirrhs? Well, someday in the future that may happen. A lot has to take place before then, but the idea is being kicked around.
This is just one of the elements that Kennecott Land developers presented this week. Kennecott owns most of the land along the west side of the Oquirrh range and the company has big plans to develop it.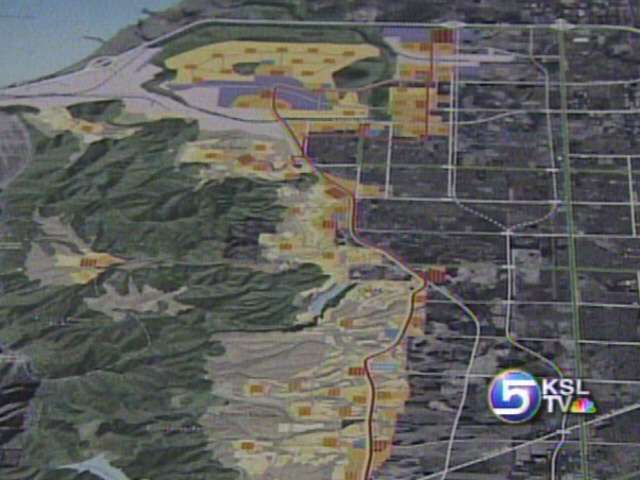 Kennecott has already started on its huge "Daybreak" development in South Jordan. It's a design that mixes housing, business, green space and cluster neighborhoods, where you can live, work and shop and not have to go far to do it!
This week Kennecott unveiled some more ideas for the public and county government agencies to digest.
Vicki Varela, V.P. Public Policy, Kennecott Land: "We own 75,000 acres in western Salt Lake county beyond Daybreak. And we are trying to think long term, large scale, the best ways to build out that land."
This won't happen overnight, more likely over the next 50-years or so. But with the Wasatch Front population expected to continue to grow, Kennecott Land will play a big role in how the valley gets developed.
Vicki Varela, V.P. Public Policy, Kennecott Land: "So far as we know, this is the largest metropolitan land holding by a single land owner in the country."
144-square miles, running along the entire east side of the Oquirrhs. What makes this area particularly attractive for development is that the terrain on this so-called "West Bench" is more gradual than the mountains on the east side. Houses, open space, and transportation facilities will come together more easily.
Quite a change is certainly in store for an area long known for its copper, and one day, perhaps, a ski destination!
Vicki Varela, V.P. Public Policy, Kennecott Land: "Imagine flying into Salt Lake City International Airport, driving to your home somewhere in the foothills of the west bench, and then 10 minutes later taking off to a ski resort which was located south of Magna. It's something very few of us has ever imagined."
More meetings are planned by the architects to give county planners and agencies a chance to weigh in on this initial plan.
One interesting note about this, the Oquirrhs are essentially off-limits to the public because Kennecott owns it all. When these developements proceed, the public will have access for the first time.
×
Most recent Utah stories