Estimated read time: 2-3 minutes
This archived news story is available only for your personal, non-commercial use. Information in the story may be outdated or superseded by additional information. Reading or replaying the story in its archived form does not constitute a republication of the story.
SALT LAKE CITY -- You may have a blush compact that you've held on to for months, maybe even years. No harm in using it, right?
Wrong.
A few germs from an unwashed hand or an open sore and your makeup could become a haven for bacteria.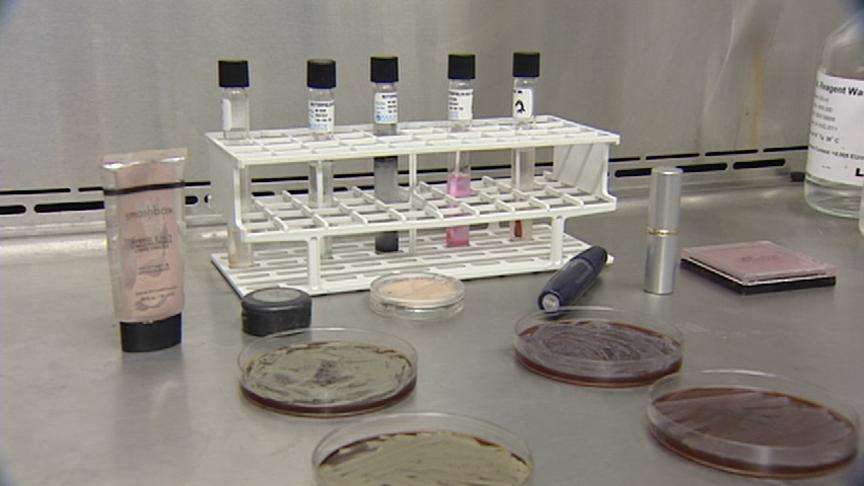 Makeup camouflages imperfections and flaws, but depending on how long you hang on to it, your favorite products may be doing more harm than good.
We asked women what products they simply can't part with.
"I usually hang on to my mascara," says Kristi Dennett. "Lipsticks I keep for a long time, I feel," says Courtney Swartwood.
"Especially when your foundation is really expensive, it's hard to throw away," says Melissa Luke.
Over time, ingredients inside makeup break down.
"Makeups have preservatives in them but they wear out," says dermatologist Marc Sanders. "After a certain time, bacteria and fungi are able to grow."
How long should you keep your makeup?
Mascara: 3 months
Concealer: 12-18 months
Cream blush: 12-18 months
Cream Eye shadow: 12-18 months
Eyeliner and Lip Liner: 2 years. Should be sharpened regularly.
Lip gloss: 18-24 months
Powder: 2 years
Foundation: 12 months (water-based/oil free, 18 months (oil-based)
Blush & bronzer: 2 years
Lipsticks: 2 years

Brushes: Wash every 2-3 months in a mild detergent
Sponges: Wash weekly and discard monthly
Bacteria could be hiding out in your powders and creams waiting to wreak havoc on your skin.
"[You'll get] a rash that might be crusty, kind of honey colored and kind of inflamed or painful, itchy," says Sanders.
We wanted to know how "dirty" our makeup is, so we collected products from people in our newsroom: concealer, blush, eye shadow, mascara, lipstick and primer.
The experts at ALS Laboratory Group tested a small sample of each one. Out of our six used products, one came back teeming with bacteria.
"It's not surprising considering the type of makeup that it is," says Adrian Gallardo, a microbiologist with ALS Laboratory Group.
The germiest product: eye shadow.
Our results showed various strains of bacteria called Gram positive cocci in our green makeup. This kind of bacteria includes staph and strep organisms, known to cause skin infections.
"Acne, rashes, little pustules, blisters, absolutely," says Gallardo.
Mascara is another concern. Ours came back clean, but the experts say it was time to throw it away.
"You have a certain applicator that you expose to the environment and you place back into the mascara, and you're going to constantly contaminate the mascara," says Gallardo. "There are a lot of things microbes will like."
Our experts say any product for the eyes should be replaced fairly often.
If you're using makeup that contains natural botanicals and preservatives, you may want to replace it even more frequently.
Natural preservatives like vitamins, fruit oils and seed extracts don't last as long and break down more quickly.
"Some of them have natural botanical extracts which are carbon based, and bacteria love all that kind of stuff for food sources," says Gallardo.
To keep your makeup clean, our experts say wash your hands before putting it on, don't share your makeup with other people and throw away old products. A good rule of thumb is, if you can't remember when you bought it, it may be time to toss it.
E-Mail: aforester@ksl.com
×
Most recent Utah stories