Estimated read time: 2-3 minutes
This archived news story is available only for your personal, non-commercial use. Information in the story may be outdated or superseded by additional information. Reading or replaying the story in its archived form does not constitute a republication of the story.
Ed Yeates reportingA brotherhood of astronauts and cosmonauts fanned out across Utah today, visiting virtually every school district.
These space explorers from around the world were out not just to entertain - but to recruit!
With upbeat music and fast paced images, more than 60 astronauts and cosmonauts from around the world took their ultimate adventures to schools throughout the state.
Rick Hauck, Astronaut: "When I speak to groups such as this, I like to say perhaps one of you will be the first human being on mars."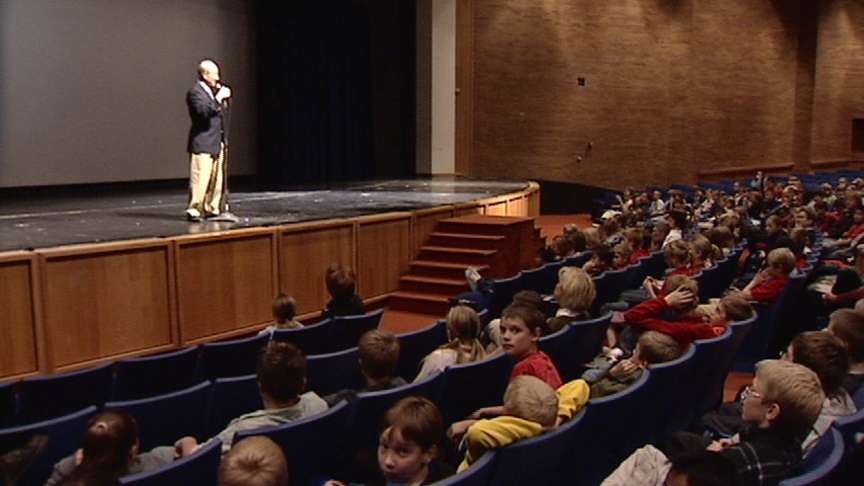 At one school, an astronaut - another school, a cosmonaut - and they came by busloads to hear the message.
Astronaut Rick Hauck, got an enthusiastic response from Woods Cross High. In some schools, elementary and high schools gathered together in one auditorium.
In Layton, cosmonaut Vladimir Lyakhov, whose spent more time in space than any other single human, was welcomed to Northridge High with the original Russian national anthem.
These were not dog and pony shows, but a concerted international campaign called "Get Ignited." Take off with science and math and jump aboard the new generation rockets to the Moon, Mars, and beyond.
Rick Hauck, Astronaut: "A society that is growing continues to explore. I have a sense that a society that is not continuing to explore is on a slow spiral downward."
Though competing amidst all kinds of distractions that pull at young people, this elite group, the Association of Space Explorers, has taken on the challenge.
Rick Hauck, Astronaut: "But I do find that they are interested in what is real and the adventure that is real. We're looking to spark that latent interest"
For many - it's working.
Tyler Kofoed, Woods Cross High School: "I would like to be the one that builds the stuff - that gets the astronauts out there."
Dirk Andersen, Woods Cross High School: "I would like to be on mission control and help figure out the trajectories."
Kylie Cox, Woods Cross High School: "I feel like the whole world has already been discovered, you know, but we have a lot more to be discovered."
Kylie, Dirk and Tyler want to be on board when that happens. For them, the adventure is "far out."
This is just the second time these have space explorers have held its planetary congress in the United States. This year, this week, it's ALL Salt Lake.
×
Related links
Most recent Utah stories