Estimated read time: 2-3 minutes
This archived news story is available only for your personal, non-commercial use. Information in the story may be outdated or superseded by additional information. Reading or replaying the story in its archived form does not constitute a republication of the story.
John Daley ReportingIt's now official, the Real Salt Lake soccer franchise plans to start building a new 20-thousand seat, 60-million dollar stadium in Sandy. They made the announcement at a press conference attended by many of Utah's political heavy hitters.
The sweepstakes over this stadium came down to two cities -- Salt Lake and Sandy. Today all the major players were on hand for a symbolic show of support for the chosen city, Sandy.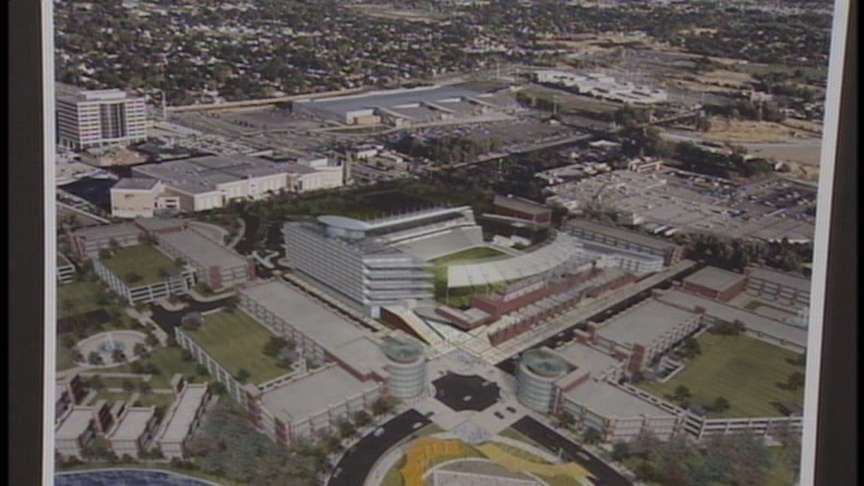 Governor Jon Huntsman and Real Salt Lake owner Dave Checketts were joined by Salt Lake County mayor Peter Corroon, Sandy Mayor Tom Dolan and top state lawmakers. Checketts says the site was first proposed to him by Mayor Dolan. He says one big advantage is that it is close to the center of Salt Lake Valley.
He told us in a one-on-one interview that there were many roadblocks to building in downtown Salt Lake, including the high cost of the land and the desire of others to be a part of that redevelopment.
Dave Checketts, Real Salt Lake Owner: "It wasn't just a part of me. It was all of me that wanted to put it downtown. But at some point you have to be realistic about the possibilities. And this just works better on a blank canvas, where we can clearly determine how this community gathering place gets built."
The team unveiled plans for the stadium, which has no name yet, and likely will end up with the name of a corporate sponsor.
A number of details are yet to be sorted out, like financing. Checketts insists Utah taxpayers will not see an increased tax burden as a result of this.
Also, traffic in this busy part of town will need to be sorted out. Checketts says he expects to be speaking to state road builders at UDOT about that.
Construction is scheduled to begin this Spring. The stadium should be completed in two years, just in time for the team's 2008 season.
In an exclusive Survey USA poll for Eyewitness News, 61% of Utahns polled call building the stadium in Sandy a good idea. Twenty-five percent say its a bad idea.
Thirty percent say it's more likely they'll attend a game, 24% say less likely, 45% say no difference.
Twenty-eight percent approve of using public money to build it, while 64% do not.
ReAL Salt Lake played their final game of this season tonight against the Colorado Rapids.
×
Most recent Utah stories