Estimated read time: 2-3 minutes
This archived news story is available only for your personal, non-commercial use. Information in the story may be outdated or superseded by additional information. Reading or replaying the story in its archived form does not constitute a republication of the story.
MOAB, Utah (KSL News / AP) – Police have found the driver from yesterday's fatal car crash near Moab.
The driver, a 17-year-old boy, left the scene and was found walking along the road about one mile north of the accident scene, Breur said. The youth was taken to a San Juan County juvenile detention facility in Moab and was expected to be turned over to immigration officials.
A 20-year-old woman died from the accident in which a minivan carrying 16 immigrants from Phoenix to Denver overturned in southeastern Utah.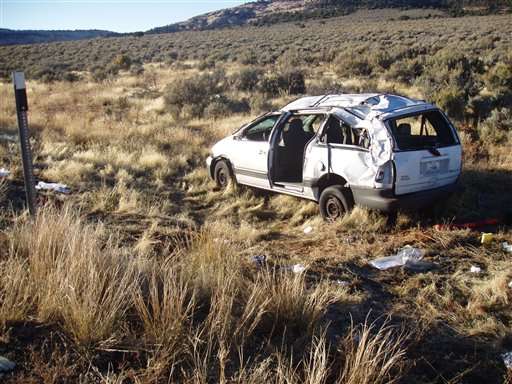 The passengers were taken to various hospitals for treatment of injuries of varying severity.
Chavarria said seven have been taken to the Immigration and Customs office in Provo, where a consulate worker was to interview them.
Highway Patrol Sgt. Wade Breur said some of the passengers admitted being in the country illegally, but it had not been determined whether they all were undocumented. He said most were from Mexico, some were from South America and one was from India.
Todd Peterson, Utah Highway Patrol: "It appears that the van had several Mexican nationals in it. We're not finding any identification or little identification at this time."
The van drifted off the right side of the road on a curve, overcorrected and rolled several times, crossing both lanes of traffic before coming to rest in the sagebrush on the left side of the road, Lt. Todd Peterson.
Investigators believe the driver may have fallen asleep or became drowsy.
"There were no skid marks on the roadway," Peterson said. "That leads us to believe the driver fell asleep."
The rollover on Utah 191 occurred about 315 miles southeast of Salt Lake City. The highway is commonly used to transport undocumented immigrants.
There is no evidence any of the passengers were wearing seatbelts, and three people were believed thrown from the vehicle when it rolled, the patrol said.
The Dodge Grand Caravan minivan normally seats seven or eight, depending on how it is configured, but the middle seat had been taken out to make more room, but leaving only seats for five, Breur said.
"They were just crammed into this thing," he said.
(Copyright 2005 by The Associated Press. All Rights Reserved.)
×
Most recent Utah stories