Estimated read time: 2-3 minutes
This archived news story is available only for your personal, non-commercial use. Information in the story may be outdated or superseded by additional information. Reading or replaying the story in its archived form does not constitute a republication of the story.
Ashley Hayes Reporting Last night, the former Massachusetts governor appeared on "The Tonight Show with Jay Leno." They discussed many things, including Romney's hair.
"There are two Americas, you know," Romney said. "The one where you get $400 haircuts, and then everybody else's."
On the topic of Romney's Mormon faith, Leno compared him to John F. Kennedy running for president as a Catholic.
"You're Mormon, and to a lot of people they don't understand it," Leno said. "Do you see yourself in the same sort of way that he did back then?"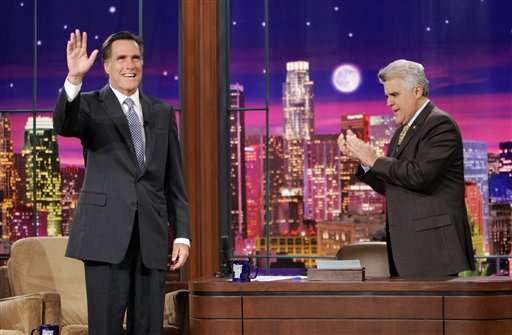 "Yeah, I think he knocked down a lot of barriers that way," Romney answered. "I think the country has changed since then. I go around the country and people tell me they want a person of faith to lead the country, who believes in God and believes we are all children of the same God. At the same time, Americans don't chose their leader based on what church they go to."
They also addressed the subject of Romney's recent criticism of Democrat Nancy Pelosi and her latest trip to Syria.
"You don't have the person who is third from the president bestowing an honor on somebody who's the leader of a state that sponsors terror," Romney said. "That was wrong for her to do. It was wrong for Harry Reid to say we lost in Iraq. When we have men and women in harm's way, you don't say we lost."
Romney told Leno his message is all about making America stronger. And he says he'll do it by strengthening the military, the economy and families.
For the Romney faithful here in Utah, there is a fund raising event here first. Romney supporters are gathering on the upper floors of the Wells Fargo Building to cheer him on. Organizers hope to raise $50,000 in the process.
×
Most recent Utah stories