Estimated read time: 1-2 minutes
This archived news story is available only for your personal, non-commercial use. Information in the story may be outdated or superseded by additional information. Reading or replaying the story in its archived form does not constitute a republication of the story.
Gene Kennedy ReportingA Taylorsville apartment building goes up in flames. Residents in eight apartments had to get out and get out fast.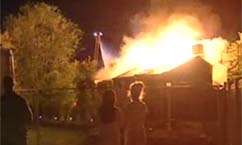 The fire began just before 10:00 last night at the Settlers' Point complex. Investigators don't know the cause of the fire at 4700 South 1500 West, but they don't believe it's suspicious.
"This is crazy," said resident Robert Sykes. "I mean, even when it was burning, we just thought the roof was burning."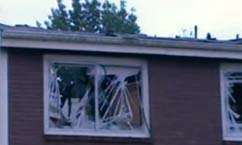 Trevor Lim said, "When I initially called the fire department, it was crawling up the corner of the building. As I was talking to them, it just started spreading on the back. Before I knew it, the whole building was on fire. "
Witnesses say firefighters arrived in five minutes -- a very quick response. But in that short time, the flames spread to the balconies and then the roof. Flames shot 30 feet high, and the heat, made it feel like a 90-degree day.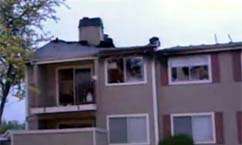 Another witness, Josh Lafeen, described it as, "Just intense. The whole building was on fire. Everything could be gone in the blink of an eye."
Five people were treated for smoke inhalation according to Unified Fire Authority.
Eight apartments were destroyed. This morning, Sykes and his girlfriend Natalie Turner returned to their apartment and realized it was destroyed. "There's really no words you can put to it, you just have to count your losses and move on," said Sykes. Turner said they have everything they need, "each other."
The management at Settlers' Point is allowing many of these residents to stay in other units of the complex.
Damage is estimated at about $750,000.
×
Most recent Utah stories