Estimated read time: 2-3 minutes
This archived news story is available only for your personal, non-commercial use. Information in the story may be outdated or superseded by additional information. Reading or replaying the story in its archived form does not constitute a republication of the story.
SALT LAKE CITY -- The saga of Odd Fellows Hall took a new twist Wednesday. After spending millions to move the building across the street, the federal government tried to sell it at auction -- but that didn't work out too well.
The building is valued for its historical looks, which date back nearly 120 years, but Wednesday's bid table was a bidder-free zone until the last minute.
Spectators outnumbered bidders 20 to zero until, finally, John Williams showed up.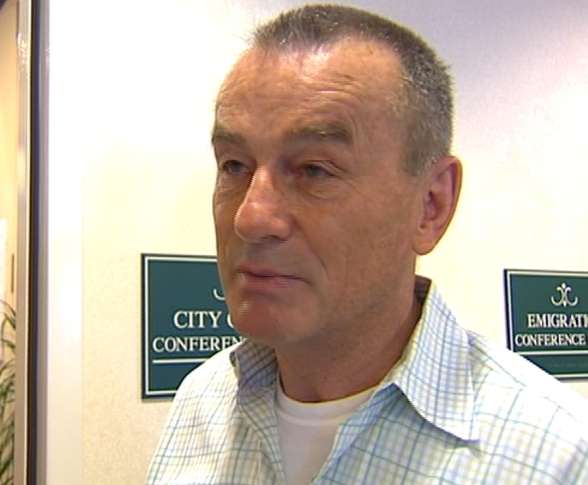 "I'm the owner of the New York building and the Market Street Grill, Oyster Bar, and the New Yorker restaurant," Williams said.
In other words, he's a neighbor of the Odd Fellows, hoping to upgrade the neighborhood and fill in the vacancies on Market Street.
"Well, renovate the building, put it to good use," Williams explained.
The federal General Services Administration won't say how much the government paid to buy Odd Fellows Hall. They spent $6.7 million moving it to make way for a new federal courthouse.
"The Odd Fellows building was definitely worth saving," said Kirk Huffaker, executive director of the Utah Heritage Foundation.
When Williams took his seat at the auction, no one expected the federal government to get its money back.
"We have one registered bidder for the property, and he has made a bid of $350,000," auctioneer John Robinson said.
At least for now, the government is not accepting the bid.
"They were asking more than I was willing to offer," Williams said.
"The federal law requires us to get fair market value for the property, but it also allows us to negotiate with an individual," said Joe Potter, with the U.S. General Services Administration.
"The difference between my price and theirs is not a huge number, so I do think they realize that the building is going to take a tremendous amount of money to rehab and put it back into use," Williams said.
"Was it worth moving? I think it was probably a mistake," Williams added. "It's been very expensive for the taxpayers."
Williams says a buyer would have to spend millions renovating the interior of the building to make it useful.
A federal official told KSL News the government has not firmly rejected Williams' offer of $365,000, and officials plan to reconsider the price over the next couple of weeks.
E-mail: hollenhorst@ksl.com
---
×
Related links
Related stories
Most recent Utah stories