Estimated read time: 2-3 minutes
This archived news story is available only for your personal, non-commercial use. Information in the story may be outdated or superseded by additional information. Reading or replaying the story in its archived form does not constitute a republication of the story.
SALT LAKE CITY -- Two Salt Lake City neighborhoods were targets of a senseless vandalism spree overnight. Residents in both neighborhoods woke to find their cars' windows smashed in.
Police said the culprits jumped on top of the vehicles and used their feet to do the damage, and residents believe it likely would have been more had someone not chased the teens off.
Tuesday night, a witness reported seeing three teenage boys running onto each of the vehicles parked near 200 West and 300 North, and then jumping on to the windshields.
The damage on Pearl Simmon's SUV is similar to that of other cars parked on her street.
"They put their foot through the window, and then we were the next one in line, and they did the same," Simmons said. "Then [they] went down to the next one, which is our neighbor, did the same thing."
Simmons said one property owner took action and chased after the three boys until police arrived. Officers then tracked the teens with K-9s, but lost them in pursuit.
Police said they don't know who the teens are, but the vandals did leave some evidence behind: on several of the cars, investigators found footprints.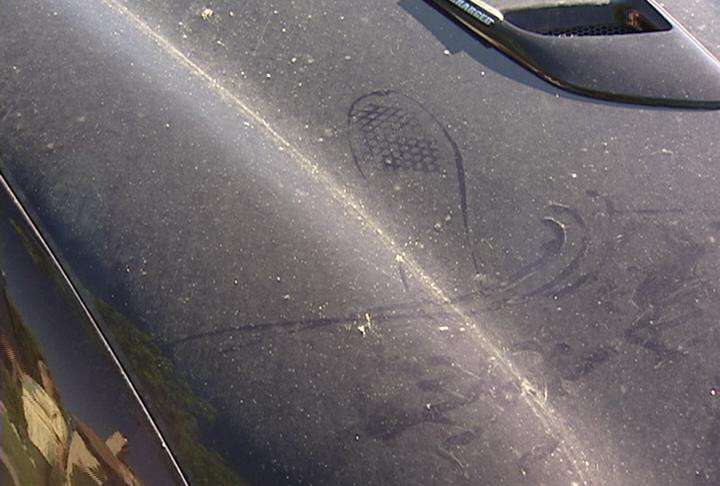 "Better than a fair chance we end up with some suspects, and we'll be able to compare footprint evidence to what they're wearing on their feet," said Salt Lake City police Lt. Craig Gleason.
Wednesday morning, police also learned of a second neighborhood targeted by what appears to be same teens. Several residents on 1st Avenue woke to find their cars dented or windshields broken.
A woman who did not want to be identified said her car's roof was caved in, and its windshield smashed. Damage to her vehicle was by far the worst.
"It's so inconsiderate," the woman said. "I mean, they're not the ones that are going to have to pay for it; it's us."
Police said it's likely that the teens are responsible for the vandalism in both neighborhoods.
Investigators are now comparing the footprints on all of the cars to see if they match. If you have any information on who might be responsible for the damage, call the Salt Lake City Police Department at 801-799-3000.
E-mail: spark@ksl.com
×
Photos
Most recent Utah stories