Estimated read time: 4-5 minutes
This archived news story is available only for your personal, non-commercial use. Information in the story may be outdated or superseded by additional information. Reading or replaying the story in its archived form does not constitute a republication of the story.
Alex Cabrero ReportingFlaking, chipping, or crumbling. There are many ways to describe what's happening to hundreds of driveways throughout Utah. The homeowners who are seeing these problems can't seem to get any help from their homebuilders.
Most of the driveways are less than three years old.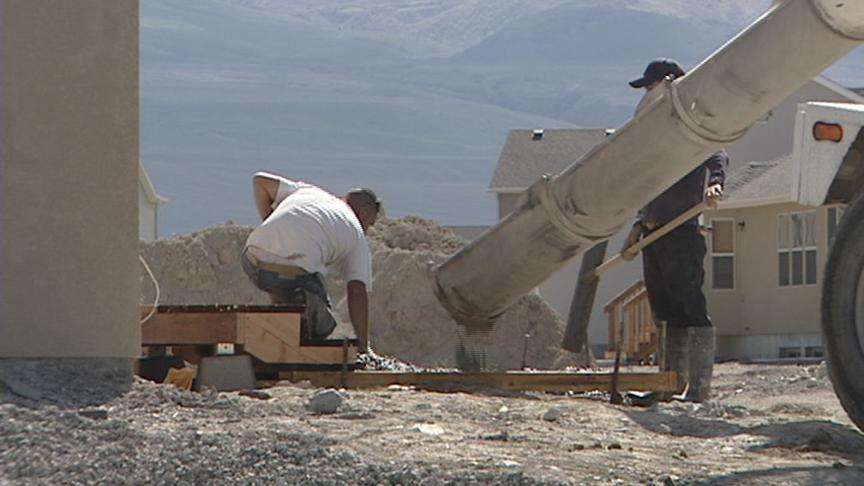 We first heard about this problem last month, when we got an e-mail from a woman in Stansbury Park saying the driveways in her subdivision were crumbling. So, we did a story on it.
Afterwards, we got so many e-mails and phone calls from homeowners in subdivisions throughout the Wasatch Front, we decided to look into this further. We found the problem is widespread, especially with America's largest homebuilder.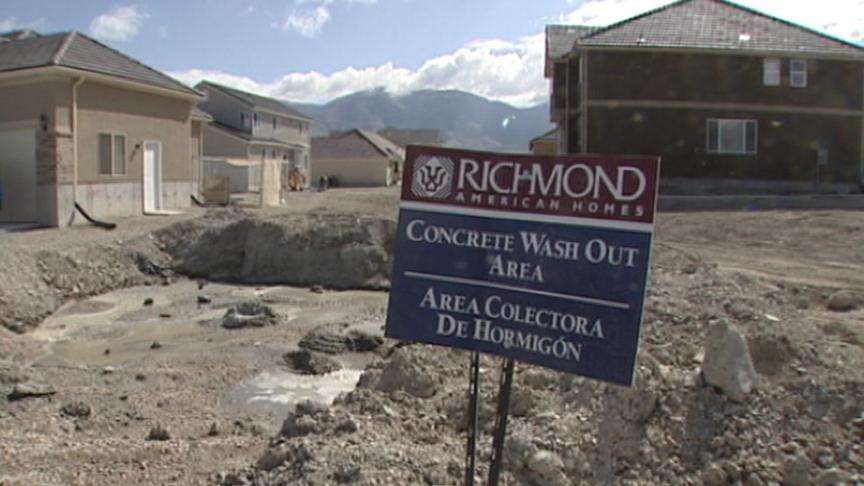 Drive through some of the newer subdivisions in Utah, and there's a good chance you'll find the types of driveway problems West Jordan resident Marty Spegar is tired of finding.
"There're a hundred houses in my neighborhood, and I have counted 35 with driveway problems like mine," he said.
That's a third of the homes in his West Jordan subdivision, with driveways where you can pick apart the concrete with your fingernail.
"Just flakes up," Spegar said, "And you can sit and probably remove the whole driveway."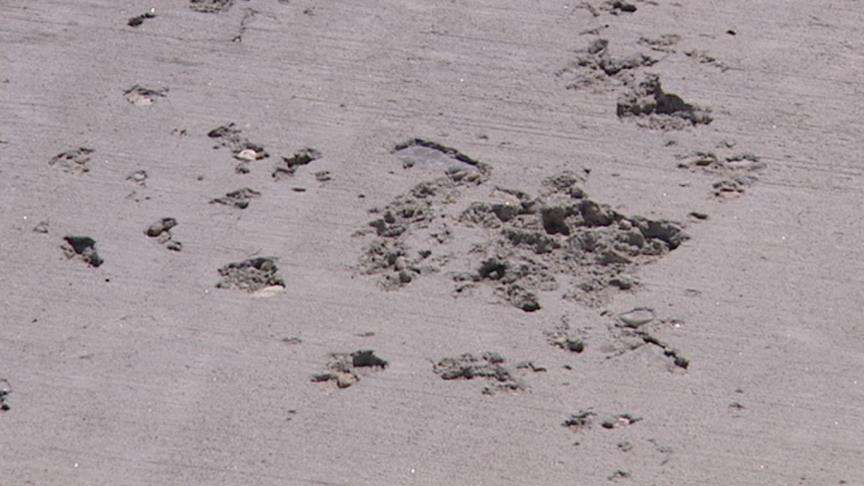 Korey Martin is having the same problems with his Stansbury Park driveway.
"I think it's a joke, myself. It's sickening to come out here to this neighborhood and be known as the worst driveway in Stansbury Park," he said.
And every day he says it gets a little worse, even though the driveway is barely two years old.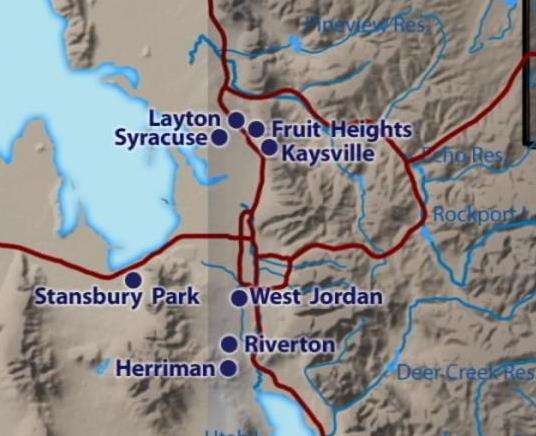 We first reported on crumbling driveways in Stansbury Park in March. That story led to several phone calls from viewers with the same problems.
Kevin Charles of Fruit Heights said, "This happened almost immediately, as soon as the concrete was poured."
Charles saw our original story, and began wondering if that small patch of flaking in his year-old driveway was just the beginning.
"With everybody having the same problems, it's not an isolated case," he told us.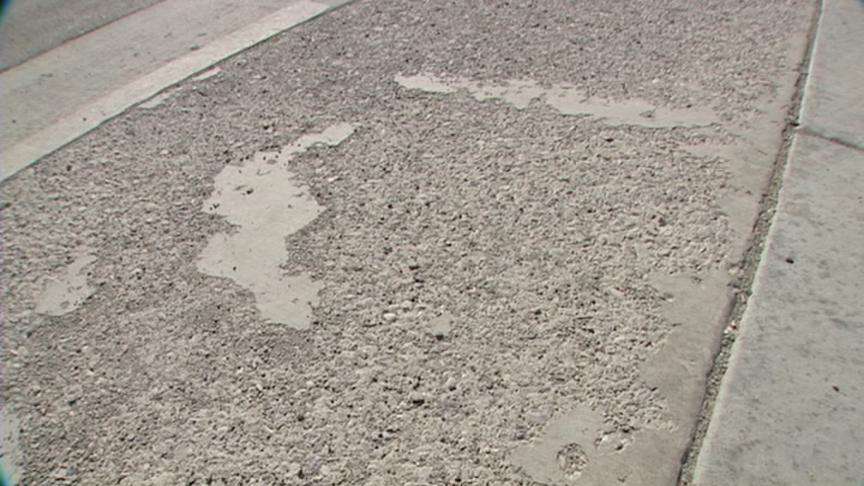 Besides West Jordan, Stansbury Park, and Fruit Heights, we've also had calls from people living in Kaysville, Layton, Riverton, Herriman, and Syracuse. The one thing all these subdivisions have in common is that they were all built by Richmond American Homes.
Korey Martin said, "We don't get a response from them. It's very difficult."
Kevin Charles said, "I think they're passing off the buck."
Marty Spegar agreed. "No one will give me answers, so I can't even put together the puzzle, because I can't get answers."
We called Richmond American's corporate headquarters in Denver. A spokesperson said they'd get to our questions and have answers soon.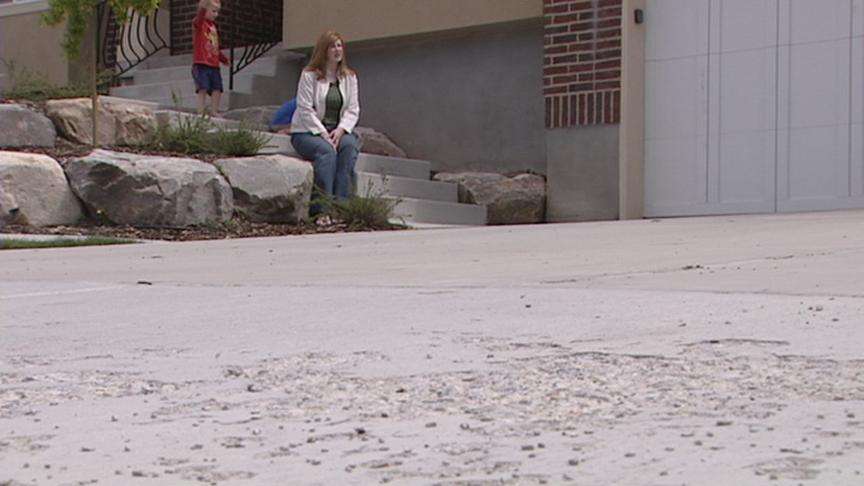 Jamie Valentine, also of Fruit Heights, said, "Yeah, we feel pretty ignored."
She says all she's heard from Richmond American is that her one-year warranty is up.
"We've been in 18 months. Only 18 months," she said.
A concrete expert with the American Concrete Institute told us these problems happen often with residential driveways, because they're not inspected like commercial projects.
He says there are three main problems.
One, too much water in the concrete mix. If it was poured in hot temperatures and not worked on right away, the water in it would begin to evaporate.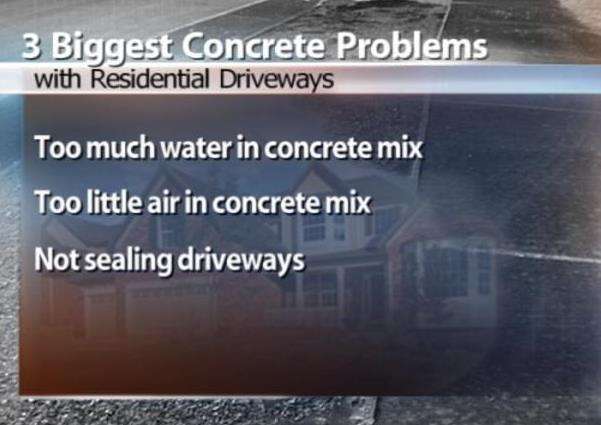 Workers would spray more water onto the top to make it easier to work with, but that top layer wouldn't fully get into the mix and would be weak.
The second problem could be not enough air in the mix, which means the concrete couldn't expand and retract enough in freezing and hot temperatures.
Third, the driveway isn't sealed, which many homebuilders don't do anyway.
We also found out most cities don't require a permit for whomever is pouring a driveway, which means there's no way to know what subcontractor a homebuilder is using. And with no inspections, there's no way of knowing the quality of the concrete mix being used.
"So again, it's just a problem we're stuck with," said Kevin Charles.
No matter what the problem, homeowners just want something done.
"In my opinion," said Marty Spegar, "the best, honest, ethical thing to do is to replace all of our driveways."
Late last week, Richmond American responded to our questions with this statement:
"Richmond American Homes is committed to product and service quality. While we do not comment in the media on individual situations, our representatives are addressing this matter in accordance with the terms of the homeowners' warranty program."
They didn't say if they're blaming their subcontractors, or if this had anything to do with the concrete shortage from a couple of years ago.
Many of those customers are planning on getting together and filing one big lawsuit.
×
Related links
Most recent Utah stories