Estimated read time: 3-4 minutes
This archived news story is available only for your personal, non-commercial use. Information in the story may be outdated or superseded by additional information. Reading or replaying the story in its archived form does not constitute a republication of the story.
SALT LAKE CITY -- Leaders from the Latino community held a press conference Thursday morning to discuss a list of purported illegal immigrants sent to multiple government agencies and media outlets last week.
Speakers used their toughest rhetoric yet against the supposed "illegal immigrant list" and whoever is responsible, calling it "domestic terrorism" and "psychological terrorism."
"This is 'gestapo-esque.' These are our families. Whether you appreciate them or not, we do," said Peggy Wilson, who was representing Latino parents.
Latino community activists came into the meeting united. Many also came in wearing "I could be illegal" pins and T-shirts.
Community 'terrorized' by list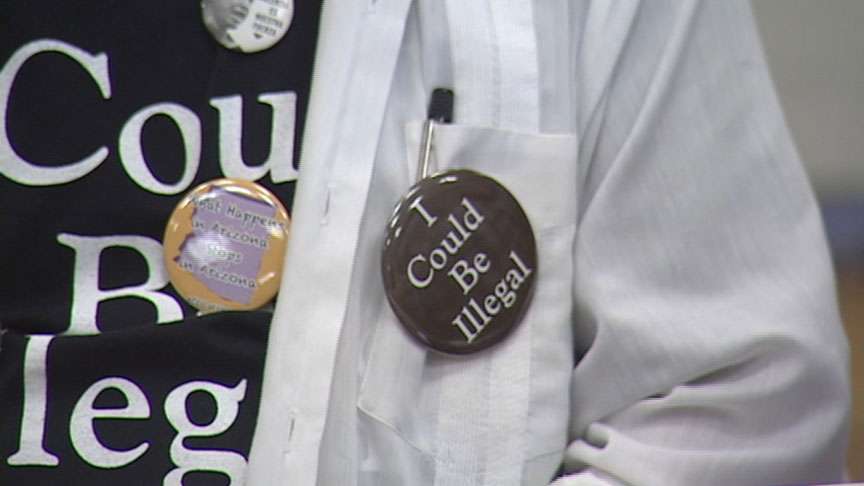 Activists say this list has caused fear in their community by singling out Latino people.
Tony Yapias, with Proyecto Latino de Utah, has set up a phone bank that's getting calls from concerned residents at all hours of the day.
"Our community is very concerned, very worried about it," he said. "I would say they have been terrorized, many of them. People are just afraid of what's happening."
"For these 1,300 people, unfortunately that fear has escalated," said Jesus Ramos, with the Utah Coalition of La Raza. "There's an arrest warrant out, essentially. That fear never goes away."
The leaders also expressed concern with how ugly the dialogue is getting. They say the civil discussion has turned dangerous.
"When they threaten you with your life or they make indications that people should be shot, that is just overstepping the lines," Yapias said.
Group pushes for thorough investigation
The Latino leaders are calling for a transparent investigation from the governor's office looking into who authored the list.
Gov. Gary Herbert has vowed to work with various state agencies to determine if any were involved in its compilation and distribution.
Related:
Activist Archie Archuleta said he appreciated the governor's swift action and investigation into the list, but he criticized Herbert's tone.
"We do not applaud his vacillating as to whether this is very serious and a crime," Archuleta said, referring to recent reported statements from the governor. "We think that he has to speak in no uncertain terms that this is a dastardly act."
Daniel Argueta, with the Brown Berets, seemed to back that assertion.
"What I feel that our leaders are doing is dodging bullets," Argueta said. "They don't want to stand up and do what's right; and what's right is condemning the list and saying that it's wrong."
Other state leaders are calling for the federal government to investigate.
"This is a very serious crime," said Ernie Gamanal, with the Utah Democratic Hispanic Caucus. "In the United States of America, we don't make 'black lists' anymore. For that reason, I would like to see the Department of Justice look in and determine if they need to take further action."
The list of 1,300 names was circulated by an anonymous group to news and police organizations. It included addresses, phone numbers, Social Security numbers and even due dates of supposed illegal immigrants. The group made demands that the people on the list be deported immediately.
Yapias said several of the community leaders have a scheduled meeting with Governor Herbert next Tuesday at the Capitol.
------
Story compiled with contributions from Andrew Adams and Nicole Gonzales.
×
Related stories
Most recent Utah stories