Estimated read time: 5-6 minutes
This archived news story is available only for your personal, non-commercial use. Information in the story may be outdated or superseded by additional information. Reading or replaying the story in its archived form does not constitute a republication of the story.
KSL Team CoverageVIDEO: WATCH THE SPEECH HERE
Vice President Dick Cheney came to Utah Thursday. A motorcade took him to LDS Church headquarters in Salt Lake, then to the BYU campus in Provo.
There was a hoedown and a warm western welcome, but there was also a showdown, as some vented about the vice president. Mr. Cheney was cordial, and he was treated with respect, but he didn't get the full red-carpet treatment in one of the reddest states of all.
The vice president's speech was well received by the 22,000 people in the Marriott Center. There was no talk of politics or Iraq. You might say the speech sounded like some fatherly advice for the graduates.
Applause greeted the vice president, whose much-anticipated speech drew criticism weeks before he ever arrived. With LDS Church President Gordon B. Hinckley looking on, BYU awarded Mr. Cheney an honorary doctorate degree for his public service.
Vice President Dick Cheney said, "One of the things I love most about our country is that we have such opportunities. America is still the country of a second chance. Most of us end up needing one."
Throughout his 15-minute commencement speech, the vice president gave advice for the future to the 6,000 new graduates of BYU. "Sometimes others know better than we do just what our talents are and how we can make good use of them. For all the plans we make in life, sometimes life has other plans for us."
There were no hecklers or boos, and he received a near standing ovation at the end of his speech.
Matt Bateman a BYU graduate, said, "In the end it turned out very nicely. The reception here was very warm."
"I really liked the speakers, I was glad the vice president was here and really liked his remarks," said Christy Walker, another BYU graduate.
Graduate Russell Stevenson said, "A lot of things he said were the things you would expect to hear from anyone who's achieved any public status."
Immediately after commencement, the vice president's motorcade made the short trip to the Provo Airport, where he gave one more wave before Air Force Two hit the skies after his brief visit to Utah.
The vice president's next stop was in Wyoming. While his visit here to BYU was a short one, graduates say they won't forget his speech in Provo.
Earlier in the day, those in support of Vice President Cheney held a rally in Provo to show their support. They called it a "We Support America" rally, and there was patriotic music to let people know the vice president is welcome in Provo.
Rally organizer Colby Green says, "We just want to show especially the media and the rest of the country that Provo really does support the vice president. We support BYU and the office of vice president, and we think it is an honor the vice president would come and visit us."
Ryan Frandsen, who supports Cheney's visit, says, "I support the vice president. I support the office. I think a lot of attention is going to the negative side of it, and I think Provo should be the welcoming city, and I want everyone to know the majority of folks welcome the vice president and respect the office and what he's done for the country."
The vice president's visit has spawned a series of peaceful protests, most visible Thursday afternoon at the entrance of the Brigham Young University campus.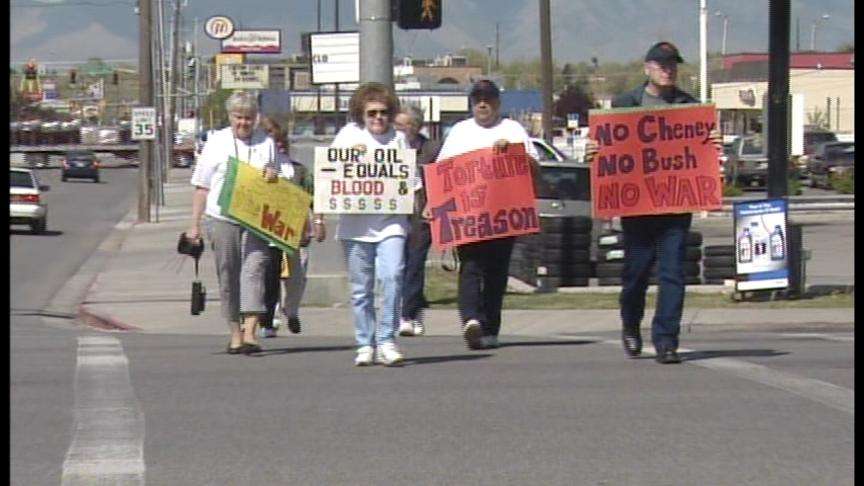 A few groups turned out there with sharp words and sharply-worded signs. There was a pretty decent crowd Thursday morning by the main gate of the BYU campus. Roughly 100 people staged protests against the vice president and against the administration's policies.
Protesters came to send a message about everything from the war to torture to the trampling of civil rights, to issues of corruption and incompetence.
One group was organized by the College Democrats and another by a group of military veterans. Organizers tell us these demonstrations are aimed at showing that even in the reddest city in the reddest state, there is deep displeasure with the Bush administration.
BYU senior Elisa Bushman says, "I believe in peace and that the people in Iraq and other places are my brothers and sisters, and I feel like we need to try and help them, take care of them rather than destroying their country as we've done. I just (think) what he's done is very inappropriate, and the way he treats people isn't something that represents our country."
Diane Bailey, who is one of the students who organized the protest, says, "We're trying to send a message that you can support peace and be a Mormon and that Vice President Dick Cheney lied us into this war in Iraq, and that it was a voluntary war and not a necessary war."
Bart Tippetts, from the group Mormons for Equality and Social Justice, says, "We want to get back to the tradition at BYU when we have commencement, I'm a BYU alumni, that when we have a commencement speaker we have spiritual leaders that speak to the students of integrity, virtue and going to serve, not a very provocative political leader who may have committed high crimes and misdemeanors."
The war wasn't the only thing people were protesting. Salt Lake City resident Darrell Smith says, "A lot of us are protesting torture by Bush and Cheney. We've never had torture before Bush and Cheney, I believe."
This protest was slightly smaller than one held on campus a couple of weeks ago. Students say it's because classes are over, and many students have already left campus for the summer.
Mostly the demonstrators were politely received. There were a few angry comments out of car windows, but other people driving by honked and waved in approval. Police reported no problems.
×
Photos
Related links
Most recent Utah stories