Estimated read time: 2-3 minutes
This archived news story is available only for your personal, non-commercial use. Information in the story may be outdated or superseded by additional information. Reading or replaying the story in its archived form does not constitute a republication of the story.
Jed Boal ReportingThe state issued a health advisory warning people to limit the amount of fish they eat from a half dozen Utah waterways. The reason: elevated levels of mercury.
State health and environmental officials are testing our waterways more than ever before, so they cannot say mercury levels are rising in fish populations.
Elevated levels of mercury turned up in certain species of trout in popular northern and southern Utah waterways, and people need to watch what they eat from those waters.
State wildlife biologists routinely pull fish from the Jordanelle Reservoir to test for mercury. Recent statewide testing raised red flags for certain species of trout in six popular waterways for fishing. So, the state issued advisory limits on how much fish people can safely eat.
John Whitehead, of the Utah Department of Environmental Quality, said, "The mercury contamination is reasonably widespread, and some of our popular fisheries are impacted."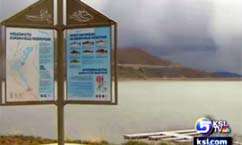 Here are the waterways and affected fish in the north: Brown trout from the Weber River near Morgan and Jordanelle Reservoir in Wasatch County. Also splake trout from Joe's Reservoir in Emery County.
To the South, high mercury levels were found in rainbow trout in the Upper Enterprise Reservoir in Washington County, Newcastle Reservoir in Iron County, and in brown trout from Calf Creek in Garfield County.
Trout consumption limits
Adults: no more than 8 ounces a month
Women who may become pregnant, pregnant women, nursing mothers and young children: no more than 2 ounces a month
Adults should eat no more than eight ounces of those fish each month. For pregnant women, nursing mothers and young children it's much less -- only two ounces.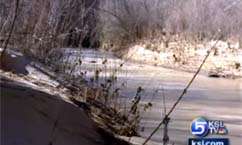 What damage can mercury do?
Wayne Ball, a toxicologist with the Utah Department of Health explained, "At high levels, [mercury] can damage the brain and kidneys in a developing fetus."
So these limits are very conservative to protect public health.
According to Whitehead, "We want you to know that if you eat a lot of these fish over a long period of time, you would experience a toxicity problem."
The sampling and testing will continue as they investigate where the mercury comes from. Typically it is airborne, coming from sources at home and from overseas.
The health department expects to keep these advisories in place for quite some time.
Bottom line: Be aware of these areas with high mercury. Eat these fish in moderation, but you don't need to stop eating fish.
×
Related links
Most recent Utah stories