Estimated read time: 2-3 minutes
This archived news story is available only for your personal, non-commercial use. Information in the story may be outdated or superseded by additional information. Reading or replaying the story in its archived form does not constitute a republication of the story.
WEBER COUNTY -- A head-on collision on state Route 39 killed five young people Saturday morning.
Weber County sheriff's officials have identified the victims as Todd Salazar, 22, Timothy Arguello, 19, Fealina Espinoza, 16, Vanessa Reyez, 19, and Karlee Jack, 18.
Weber County sheriff Lt. Phillip Howell says a group of friends was driving westbound in two cars on the two-lane highway near the entrance to South Fork Canyon and 10500 East around 7:40 a.m. That's when Arguello, who was driving a Honda Accord, tried to pass the other on a blind turn in a no-passing zone.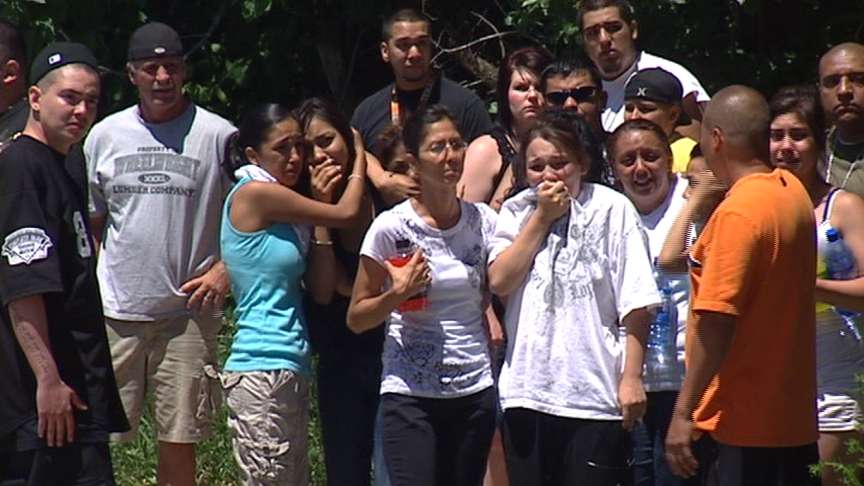 The Accord smashed into a Ford F-350 truck head on.
"That truck ended up landing on top of that vehicle and all five passengers in that vehicle were killed almost instantly," Howell said.
Family members and friends gathered at the side of the highway, trying to process the horrible news.
"They were all good kids, all of them," said Tracy Martin, Fealina Espinoza's mother. "I knew all of them. It's just tragic to all these families."
---
My daughter meant everything to me. She had a lot going for herself. She had her life in order. She knew what she wanted to do.
–Chris Espinoza
---
Chris Espinoza, Fealina's father, said he was at home when he started getting text messages and phone calls from friends telling him his daughter had been killed.
"This is probably one of the most difficult things that I've ever, ever had to do," he said.
Espinoza expressed his grief over the tragic loss. "She was, my daughter meant everything to me," he said. "She had a lot going for herself. She had her life in order. She knew what she wanted to do."
Espinoza said no one should feel responsible for the crash because accidents happen.
None of victims appeared to be wearing a seat belt.
The three people in the truck -- a man, his wife and their baby -- suffered minor injuries. Both the man and woman were wearing seat belts and the baby was properly restrained in a car seat.
The crash happened close to the Eagles Campground. Howell says the people in the Accord and the car they tried to pass were part of a caravan of friends headed home from an overnight camping trip.
The road was closed in both directions until 1 p.m. while crews cleaned up the wreckage.
×
Photos
Most recent Utah stories