Estimated read time: 2-3 minutes
This archived news story is available only for your personal, non-commercial use. Information in the story may be outdated or superseded by additional information. Reading or replaying the story in its archived form does not constitute a republication of the story.
Alex Cabrero ReportingThe fourth annual Salt Lake City Marathon took place Saturday morning, with more than 10,000 runners doing something most people can only dream of.
The marathon started at the University of Utah, went down to 6200 South, then wrapped up back at the Gateway. In all, the marathon stretched 26.2 miles.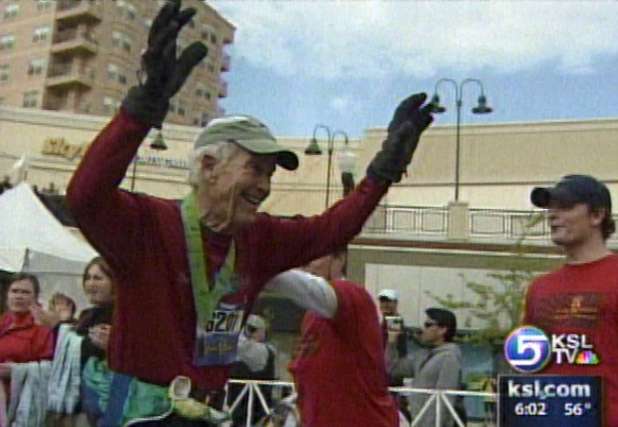 Like we said, there were more than 10,000 runners. That means 10,000 stories. We found a few of them to share with you. If you spent just one minute with everyone who ran in the marathon, it'd take you nearly seven days to meet them all.
Monica Murphy of Sandy did it to get in shape. She trained months for this single day, losing 20 pounds in the process.
Valerie Gearheart of Draper just wanted to see if she could finish in under three hours. She missed, but only by 11 minutes. "I have to be honest, I spent this winter skiing with my kids, so I didn't get much time to train. So I couldn't push it as hard as I wanted to," she said.
Imagine, while most people get tired driving for three hours Valerie is upset because she ran that long, just like Robert Wright.
"I was trying to break three hours, and I came pretty close," Wright said.
He ran in the half-marathon, and at 80 years old, afterwards looked like he could keep running. Wright says his trick is to just keep putting one foot in front of the other. "I say you gotta keep doing it. It's like biking. If you stop peddling, you fall over," he said.
And it doesn't matter if you finish near the end, the important thing is finishing, especially if that was your goal in the first place.
Bill Cobler of Holladay said, "The neat thing about running is they're usually personal goals. It's not as important as who you beat, you know, you set your own goals and try to accomplish them."
The overall men's winner was Nelson Lebo of Nairobi, Kenya, crossing the finish line in a ridiculously fast two hours, 21 minutes. Maria Portill of Albuquerque, New Mexico, ran away with the fastest women's time at two hours, 40 minutes. Each of them wins $5,000 as the top finisher, but for most of the runners here, it wasn't about trying to win money, it was about setting a goal and accomplishing it.
×
Most recent Utah stories