Estimated read time: 2-3 minutes
This archived news story is available only for your personal, non-commercial use. Information in the story may be outdated or superseded by additional information. Reading or replaying the story in its archived form does not constitute a republication of the story.
Tonya Papanikolas Reporting Schools all over the valley are getting involved in raising money for hurricane victims, but an elementary school in Murray is going to be giving more than 42-thousand dollars to the Red Cross. McMillan Elementary has an inspirational story for us all.
It's a lot of money to raise, and they had some help. Last year students here raised money to help the tsunami victims and this year they decided to help with hurricane relief.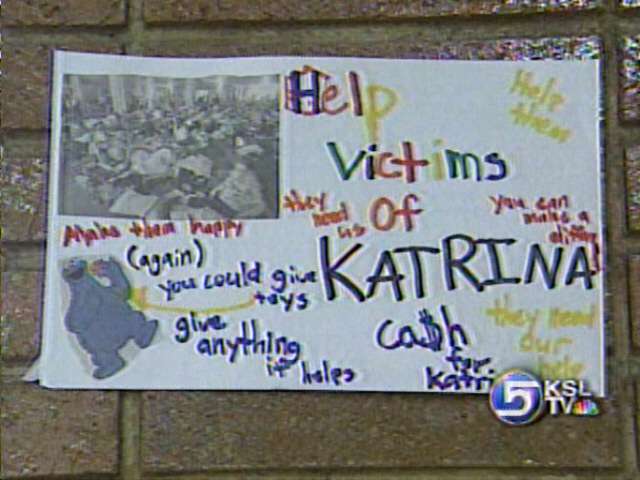 A third and fourth grade class took buckets around and asked for donations every day for two weeks. Signs around the school encouraged kids to donate and help victims. Students brought in coins, dollars, and checks. They added up the total everyday.
Some kids raised money by doing chores, others collected from neighbors, and one boy even gave his birthday money. The school was able to raise over $5,000 and then two businesses made matching donations. The money the students collected will be handed over to the Red Cross.
The school is going to request that some of the money go to a specific school district in Mississippi where two of McMillan's students used to live.
Paige Henry, Mississippi Native: "The new school that I was gonna go to, it survived, but it had five feet of water in it.
Oliver Duran: "It just makes me feel good because if I was hungry like them and didn't have any pillows, I would want people to come help and donate too."
Paige Henry: "I didn't think kids would car that much."
But they did. Some of the students also wrote letters to hurricane victims.
They also had another nice surprise. A parent had heard that Beach Boy Brian Wilson was matching donations so they contacted him and Wilson donated $18,000. That brings the total to about $42,940.
Brian Wilson is going to call the students during an assembly in a few weeks. He's also giving Beach Boy CDs to every student.
×
Most recent Utah stories