Estimated read time: 5-6 minutes
This archived news story is available only for your personal, non-commercial use. Information in the story may be outdated or superseded by additional information. Reading or replaying the story in its archived form does not constitute a republication of the story.
SALT LAKE CITY -- Utahns headed to the polls Tuesday to vote in several high-profile primary races.
Many of the candidates know that a major factor in the elections will be voter turnout.
As of mid-Tuesday morning at several polling locations, voter turnout has been low, as predicted. But as the day wears on, candidates are going to do their best to change that.
U.S. Senate race
Provo businessman Tim Bridgewater and Alpine attorney Mike Lee are vying to replace three-term U.S. Sen. Bob Bennett, who they defeated at the GOP state convention in May.
Lee and Bridgewater rose to prominence by promising to be more conservative than Bennett and rein in federal spending.
They both have the backing of tea party activists and have struggled to distinguish themselves from one another since the Republican convention.
Related:
Among other similarities, both say they support term limits, want to repeal the new health care law and wean the country off Social Security.
In advertisements and debates, the two have focused mostly on their professional backgrounds.
"I don't think there's a large difference between them on the issues. So what we're left with is differences in background and style," said Brigham Young University political scientist Quin Monson. "It's not the most compelling thing to drive people to turn out and vote."
Lee, 38, contends that as a constitutional scholar who once clerked for Supreme Court Justice Samuel Alito, he's better suited to limit the role of government to what the country's founders intended it to be.
Bridgewater, 49, the founder of a consulting firm specializing in emerging markets, contends that his business background means he's better suited to help create jobs.
Both Bridgewater and Lee have been going all out to win votes for this election. Now that they're in the home stretch, it's certain the two will fight for every last vote.
Candidates squeeze in some last-minute campaigning
Bridgewater and Lee ended up on the same corner in Sandy Tuesday, both doing "honk and waves" to generate support and remind people to vote. Usually they try to avoid each other.
It's symbolic of this race: both candidates struggled to distinguish themselves and attract attention.
"It's interesting," said Lee. "Sometimes you can tell if they're looking at you and pointing and waving. Other times you can't tell."
Bridgewater joked about his camp's proximity to Lee's.
"I thought we were going to give them some of our signs to help hold up," he said. "We're glad to be here and I think a campaign boils down to choices."
In the end, though, they're going their separate ways.
Lee is mostly campaigning as an attorney and constitutional scholar, while Bridgewater is making his name as a businessman with what he calls "real world" experience.
Both of them say they want to target the nation's debt, eliminate the Obama health care plan and lower the tax burden on people.
"This is the day it happens. This is the day everything comes together," said Lee. "We've got TV, radio ads, phone calls, e-mails -- every form of communication known to man, we're harnessing that."
Bridgewater says he won't stop campaigning until the very end.
"We're excited," he said. "We're working all day right until the polls close to get every last vote we can. We feel like we're going to be victorious."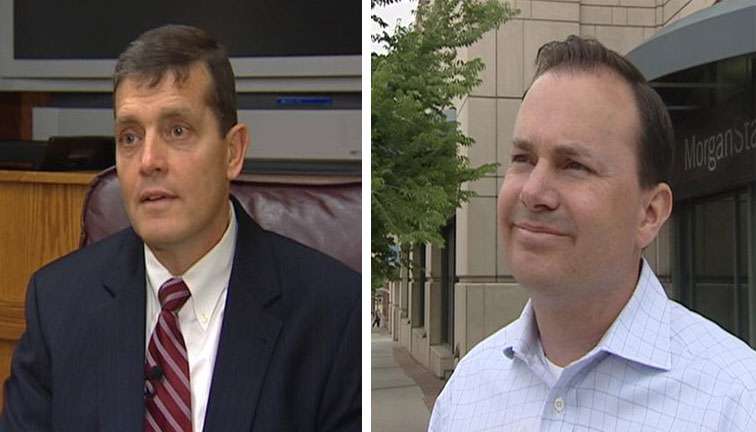 In heavily Republican Utah, whoever wins the GOP nomination should have an easy path to victory in November.
A Democrat hasn't been elected to the U.S. Senate from Utah since 1970.
---
A Democrat hasn't been elected to the U.S. Senate from Utah since 1970.
---
The Democratic nominee, restaurateur and Department of Alcoholic Beverage control chairman Sam Granato, has never sought public office before and has had trouble raising money and drawing media attention.
Utah's six-term senior senator, Sen. Orrin Hatch, did not endorse in the primary. Bennett endorsed Bridgewater largely because of his business background.
Election officials predict turnout will be below 15 percent based on early returns and historical voting trends.
2nd Congressional District race
Meanwhile, U.S. Rep. Jim Matheson is facing his first-ever Democratic primary challenger as he seeks a sixth term in office.
Polls show the 50-year-old Matheson leading retired school teacher Claudia Wright going into Tuesday's primary.
Even so, Wright says she's "cautiously optimistic" about beating Matheson. She has worked hard to get voters motivated and has said she believes that hard work will pay off at the polls.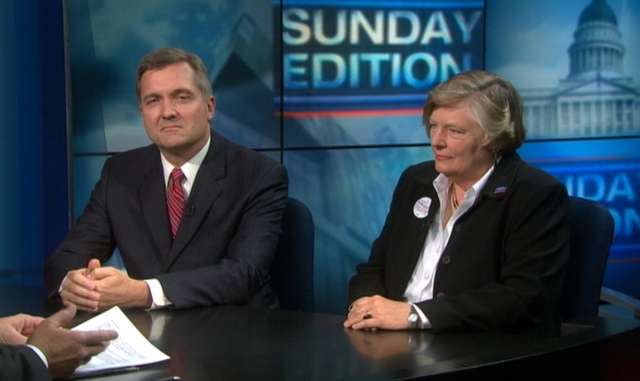 "Last time it was 36 percent of the registered voters," she said. "With lower voter turnout, I think anything is possible. I think it's who can energize people and get them to the polls."
Matheson says the primary challenge was an opportunity to connect with voters.
"I like to interact with voters and this primary has been a good experience for me because it's given me another opportunity to do that," he said.
Matheson spent 37 times more money on the race than Wright.
Wright is hoping to appeal to Democrats who are angry at Matheson for not being "liberal enough" on issues such as health care and energy.
Wright could get some unsolicited help from Republicans, who could mix things up by jumping into the Utah Democrats' open primary to vote for the liberal newcomer.
Republicans believe their nominee, Morgan Philpot, could more easily beat Wright than Matheson in November's general election.
Polls opened at locations across the state at 7 a.m. and will close at 8 p.m.
Other issues on ballot awaiting voters
Something else on Tuesday's ballot for Salt Lake County taxpayers: bond elections to improve facilities.
The Canyons School District has $250 million bond on the ballot. That money is earmarked for renovating several schools and building a new high school in Draper.
Cottonwood Heights Parks and Recreation is seeking a nearly $5 million bond to improve its nearly 40-year-old facilities, and Oquirrh Recreation and Parks wants $12 million for improvements to the Kearns Oquirrh Park Fitness Center.
------
Story compiled with contributions from Richard Piatt, Shara Park and The Associated Press.
×
Related links
Related stories
Most recent Utah stories