This archived news story is available only for your personal, non-commercial use. Information in the story may be outdated or superseded by additional information. Reading or replaying the story in its archived form does not constitute a republication of the story.
SALT LAKE CITY -- There's a new plan to stir things up on Red Butte Creek. Chevron will release a rush of water Saturday to flush out the oil spill.
The company plans to double the flow of water from Red Butte Dam, hoping to wash out much of the remaining oil. Notifications went out to residents Friday night, letting them know to stay away from the creek when the flush happens.
---
We've now captured 600 barrels of oil out of the 800. There's a residue left in the creek. We're going after that tomorrow.
–Dan Johnson, Chevron
---
Though the timing of it is a bit uncertain, it will probably take place in the morning. The creek will jump from 7 cubic feet per second to 14 cubic feet per second, roughly what it runs during a good rainstorm.
Chevron's hired cleanup crews began repositioning booms late Friday to capture oil when the creek suddenly runs higher.
"We've now captured 600 barrels of oil out of the 800. There's a residue left in the creek. We're going after that tomorrow," said Dan Johnson, manager of state and government affairs for Chevron.
The creek will double in volume and run faster from Red Butte Garden through the Harvard-Yale neighborhood. Chevron does not believe the flush will re-contaminate areas already cleaned, but instead scour out the oil so it can be collected.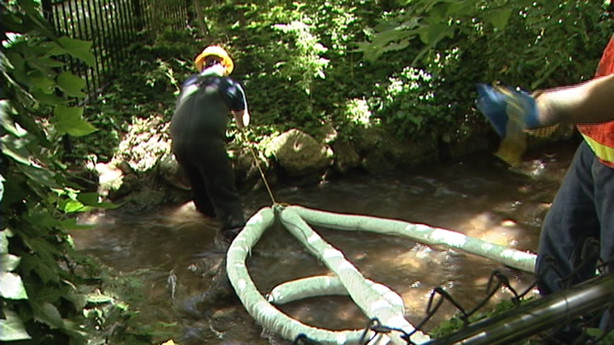 "All this will kind of flow down the river and be caught by additional booms that will be taken out after this action -- all the way down to Liberty Park," Johnson said. "We don't expect any impact beyond Liberty Park.
Chevron does expect an upsurge in odors. Neighborhood resident Dolly Close worries her family's headaches may be related to the spill.
"It does seem to have dissipated. But now with the flush, it might cause it to reoccur, maybe even stronger," Close said.
"All those residents are going to be exposed to breathing in those fumes again," said Zach Frankel, founder and executive director of the Utah Rivers Council.
The Utah Rivers Council has collected several anecdotal accounts of illness.
Related:
"We're hearing some alarming stories of residents who say they've had, you know, temporary dizziness, nausea and even temporary blindness -- which is pretty shocking and scary," Frankel said.
Several government agencies approved the flush. They say air monitoring on the creek has not detected harmful levels of pollutants.
Chevron continues to offer alternate lodging to people who want to get away.
"I don't think it's a health concern. It's primarily an odor concern," Johnson said.
Chevron will be monitoring air quality during the flush to make sure pollution doesn't increase too much, but the company says a bigger worry is the high water itself.
Concerned citizens who live near the creek and have questions about the flush, or the oil spill in general, can visit www.slcgov.com/emergency for information.
Salt Lake City and Chevron have also set up hotlines for people to call with questions or concerns. Those numbers are listed below:
Salt Lake City hotline: 801-535-7171
Chevron hotline: 866-752-6340
E-mail: jhollenhorst@ksl.com
×
Related Links
Related Stories