Estimated read time: 2-3 minutes
This archived news story is available only for your personal, non-commercial use. Information in the story may be outdated or superseded by additional information. Reading or replaying the story in its archived form does not constitute a republication of the story.
SALT LAKE CITY -- An exclusive poll shows Tim Bridgewater leading Mike Lee just before the Republican primary election in the U.S. Senate race.
But those results may not be the final say.
It's yet another chapter in this hard-fought race for U.S. Senate that started with the outster of Sen. Bob Bennett in May.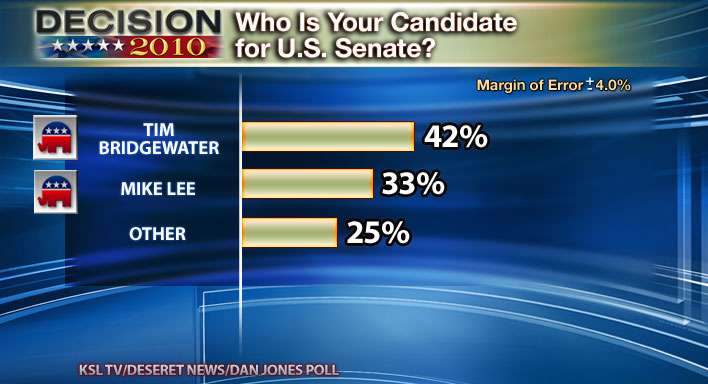 It's important to point out that this KSL TV/Deseret News/Dan Jones poll showing Bridgewater in the lead is merely a snapshot in time. The results also show anything can still happen in this race.
The results show Tim Bridgewater leading Mike Lee by nine points: 42 to 33 percent.
But the results also show 25 percent undecided -- an unusually large number of undecided votes, according to Dan Jones.
"No, this election is not over," Jones said. "It's very volatile and could go either way, and it depends on who gets out the vote."
The candidates are working hard to rally supporters with a strong get-out-the-vote message. Both need as many people to cast a ballot as possible.
Tim Bridgewater says he isn't taking anything for granted -- even with the lead in this poll.
"We're encouraged, but the final poll is next Tuesday night," he said. "And we're going to work all night until the polls close to get voters to vote for Tim Bridgewater for Senate."
Mike Lee, campaigning in Southern Utah, says he's not fazed by this poll. He points to his own poll showing him 10 points ahead.
"Ultimately, this is a race that's going to come down to one simple thing: who gets the most voters to the polls. That's going to be me, and we're going to win this next Tuesday," Lee said.
The candidates are running on a conservative platform, and the poll shows a mostly equal number of voters who say Lee and Bridgewater are "about right" in their views.
Still, 14 percent told KSL they think Bridgewater is not conservative enough, compared to 11 percent for Lee; 15 percent say Lee is too conservative, compared to 9 percent for Bridgewater.
On June 22, Republicans can choose either Tim Bridgewater or Mike Lee to be the next candidate for United States Senate.
And this time more than any other, every vote does count.
E-mail: rpiatt@ksl.com
×
Related links
Related stories
Most recent Utah stories