Estimated read time: 2-3 minutes
This archived news story is available only for your personal, non-commercial use. Information in the story may be outdated or superseded by additional information. Reading or replaying the story in its archived form does not constitute a republication of the story.
SALT LAKE CITY -- Cancer ate away part of Wally Brookins' face. But now, anaplastologists at the Huntsman Cancer Hospital have rebuilt that which he lost.
"The way I looked, I had a hard time being around people." That's how Wally Brookins described reactions from those he met, before he got his new prosthesis.
---
Before, when I had the amputation, the disfigurement, I didn't feel complete as a person. Now I do, and it's a wonderful feeling.
–Cancer survivor Wally Brookins
---
Basal cell carcinoma took its toll on his face. To get rid of the advanced and growing cancer, surgeon Jason Hunt at the Huntsman Cancer Hospital had to remove a lot of tissue.
"We had to take off the entire nose as well as bones that lived underneath, as well as some cheek bones," Hunt told KSL.
But inside a specialized lab at the hospital, anaplastologist Paul Tanner used a combination of science and artistry to design and build a prosthetic nose.
"You look at people in the eyes, but the nose is right in the middle of the eyes, so there's no avoiding it," Tanner said. "It has to be good in order to be disguised."
Dr. Hunt removed tissue from Wally's forehead to build a base for the prosthesis. Though there's still some lingering inflammation and healing from the surgery, the nose designed by Tanner looks very good.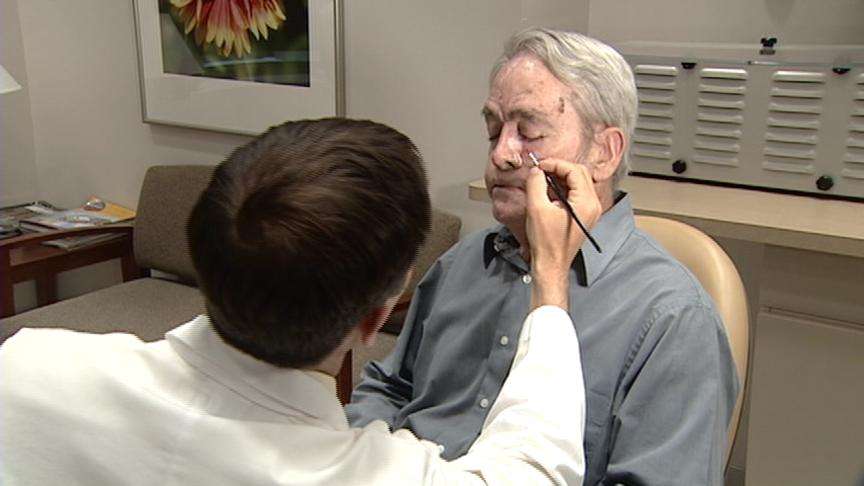 "We're artists trained to think scientifically, and there's very much an art to matching the colors," Tanner said.
The Huntsman Cancer Hospital lab is now about seven years old. It's catering on the average to one patient per day. Anaplastologists specialize in ears, eyes, noses and even full segments of the face and neck.
With the prosthesis, Wally Brookins has a new look and a renewed feeling of self-confidence. He went back to Montana State University to finish a degree he had left behind for 40 years. A photo by the Great Falls Tribune shows his recent graduation.
Brookins was even invited to speak at the ceremony. "I was honored," he says. "The dean of the college was there and there were over 300 people attending. It was amazing."
Before the prosthesis, Wally had lost a lifelong job. He was told "it wouldn't be good for customer service, and I had been a truck driver all my life."
But now, with his restored image and a college degree, he's looking for new work. "Before, when I had the amputation, the disfigurement -- I didn't feel complete as a person. Now I do, and it's a wonderful feeling."
And a wonderful road yet to travel.
Doctors at the Huntsman Cancer Hospital have also now declared Wally cancer free.
E-mail: eyeates@ksl.com
×
Most recent Utah stories