Estimated read time: 2-3 minutes
This archived news story is available only for your personal, non-commercial use. Information in the story may be outdated or superseded by additional information. Reading or replaying the story in its archived form does not constitute a republication of the story.
SALT LAKE CITY -- Chevron officials gave a close-up look Wednesday at the pipeline that broke this past weekend, spilling roughly 27,000 gallons of oil into Red Butte Creek.
Chevron officials showed local media outlets exactly where the spill took place and where the pipeline has been repaired. The company says 22 feet of the 10-inch steel pipe has been replaced.
Chevron spokesman says cleanup going well
Cleanup crews have been working all day to dig out dirt contaminated by oil, as well as clean up the booms that are absorbing oil from the water and the dirt. A Chevron spokesman says the cleanup is going well.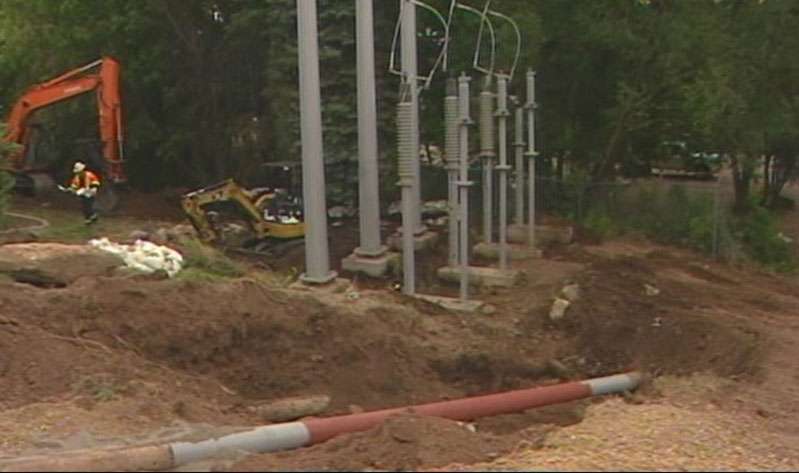 "What has been done, of course, is that the soil has been removed and the old piece of pipe was cut out. The new piece of pipe has been inserted," said Dan Johnson, manager of state and government affairs for Chevron.
The company says, so far, 41 Salt Lake City property owners have filed claims.
As for the cause the spill, Chevron says it still believes it was started by an electrical arc that contacted with a fence post near the pipe, blowing a whole in the pipe.
Rocky Mountain Power, meanwhile, says its still investigating that theory.
"The company is still trying to understand exactly how, if true, voltage was introduced into the ground that could damage the pipeline," Rocky Mountain Power spokesman Dave Eskelsen said. "We need a certain amount of time to evaluate the evidence, the fence post conditions here. We need some more information.
"Ultimately, the question's going to be here: What's clean? How clean is clean? And that will be something that we'll be working with the various federal agencies and state agencies and local agencies on," Johnson said.
City hires firm to conduct cleanup oversight
Salt Lake City announced Wednesday it has hired an independent firm for advice and oversight on the oil spill cleanup at Red Butte Creek.
Officials say Dalton, Olmsted and Fuglevand, Inc.is experienced in oil spill cleanups and will advise the city on the best practices, next steps and mitigation of the immediate and long-term impacts of the spill.
Salt Lake City Mayor Ralph Becker says hiring this independent firm will help in keeping the promise to do whatever it takes to restore the private and public lands that were damaged.
In the meantime, the State Department of Environmental Quality is expected to have new test results regarding oil in Red Butte Creek and the Jordan River. KSL News will have those for you as soon as we get them.
E-mail: jdaley@ksl.com
×
Photos
Related stories
Most recent Utah stories