Estimated read time: 2-3 minutes
This archived news story is available only for your personal, non-commercial use. Information in the story may be outdated or superseded by additional information. Reading or replaying the story in its archived form does not constitute a republication of the story.
LEHI -- Utah children with autism are talking and learning to interact with adults through dogs. The highly-trained animals are opening a new door for therapy -- allowing adults, often for the first time, to enter their world.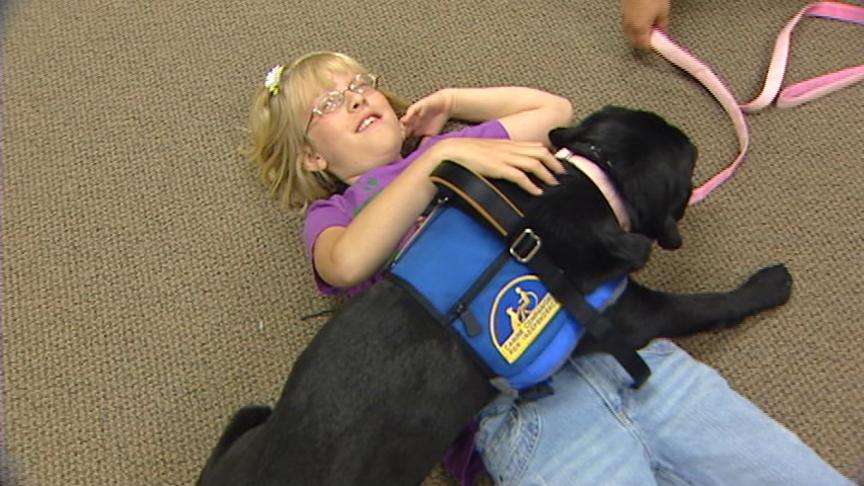 Lying on the floor at a learning center called Autism Journeys, KSL watched as 9-year-old Jordyn Pusey petted a dog named Gamee.
Autistic kids often don't like others touching them, but Jordyn enjoyed the gentle pressure of this special dog. She was calm, relaxed and coming out of her shell.
"It makes me happy," Jordyn said.
Kate Andersen, president of Autism Journeys, told KSL, "Jordyn had a difficult time even knocking on my door, and she's known me for a year and a half. But once Gamee was in the mix, she comes right in and says, 'Miss Kate, can I have a turn with Gamee?'"
By definition, these dogs are more highly-trained than therapy dogs. They're service dogs, and in this case work directly with kids in the facility.
---
More children will be diagnosed with autism this year than with AIDS, diabetes and cancer combined. -Autism Journeys
---
The animals come from Wasatch Companions, the Utah chapter for Canine Companions for Independence. Their breed -- a cross between Labradors and golden retrievers -- offers a low-reactive and safe alternative for the highly-reactive children.
"It's temperament. These dogs are especially bred for temperament," said Melanie Dutcher, with Wasatch Companions.
Autistic kids who normally wouldn't talk in full sentences, or look an adult in eye, or take turns playing with other children now have a new kind of motivation.
"She loves the feel, the thought of her being able to pet the soft dog, and the fur makes her really comfortable," says Jordyn's dad, Chris Pusey.
Outside, KSL watched Cobi Dickinson trying to take her 2-year-old son, Hagen, for a walk.
---
Autism affects 1 in 110 children and 1 in 70 boys. -Autism Journeys
---
"It's terrifying going outside," Dickinson said. "I'm always on edge and have anxiety because it doesn't take more than a second for him to take off; he's gone and in the road."
But now, walking and holding Gamee, Hagen is learning how to stay with mom. Hopefully, he'll eventually do it on his own.
"A dog is completely nonjudgmental and unintimidating," Dutcher said. "It provides non-threatening, unconditional love. The dog doesn't care who you are or if you're disabled."
As subtle teachers, some say dogs are the only animals that love you more than they love themselves -- something the kids can really sense.
Some of the trained animals end up in homes as permanent companions. One autistic child who had to be pre-medicated before going to the dentist doesn't need it anymore because his dog Hal goes with him and simply lays his head on the boy's lap.
E-mail: eyeates@ksl.com
×
Related links
Most recent Utah stories