Estimated read time: 3-4 minutes
This archived news story is available only for your personal, non-commercial use. Information in the story may be outdated or superseded by additional information. Reading or replaying the story in its archived form does not constitute a republication of the story.
SALT LAKE COUNTY -- Changing weather has homeowners in Salt Lake County watching the skies nervously again, worried about more flooding.
Little Cottonwood Creek has already exacted a significant toll, and heavy rains could mean more damage to areas in Sandy, Murray and elsewhere.
Watching the skies
The forecast Thursday was for temperatures to dip from the 70s to the 60s for Friday and Saturday, with a chance for thundershowers and rain each day.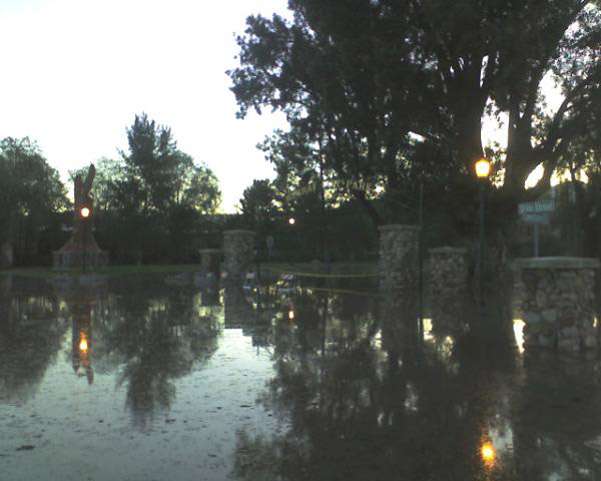 Murray Deputy Fire Marshal Russ Groves says if the rain isn't significant, his city should be spared further problems.
"As long as we don't get the big, heavy thunderstorms, I think we're going to be alright," Groves said Thursday.
Groves says Murray is stocked up on sandbags, and all the trouble areas have been fortified.
Monday, Murray City Park was under as much as 6 feet of water. The water extended out to close two northbound lanes of State Street, and Vine Street had 3 feet of water flowing over it at 100 West.
Groves says the problems were largely due to a buildup of debris.
"We had all sorts of debris, overgrowth in the creeks, things like that -- years of that, that all came down," Groves said. "That's what plugged up the overpasses and the pinched areas in the county."
Most of Murray Park is once again open to the public. Recreation facilities are open and usable, including the Park Center, Outdoor Aquatics Pool, ball fields and pavilions.
Some areas, however, are still closed for clean up or where flood waters have not yet receded.
The cost of cleanup
Meanwhile, a lot of the homes affected by the flood earlier this week now have berms for protection, but that comes at a cost.
---
As far as money goes, there is no money to pay for this event,
–Jeff Graviet, Salt Lake County Emergency Services
---
"There was about a foot and a half underneath the house," Kim World said.
It took five semi trucks full of dirt and boulders to give Kim World her property back. For the first time in days, she says her family feels safe from more flooding.
"You can't hear any boulders right now," World said. "That's when you know it's really going, when you hear the boulders.
Still, the water continues to erode away neighbors' yards. A home just a block away from World's is slowly shrinking; chunks of lawn are falling into the river.
County officials believe the weather over the weekend may buy them some time to deal with properties like it.
"Things are mild today. The stream flow seems to be beneath their peak points," said Jeff Graviet, Salt Lake County Emergency Services coordinator.
County administrators are now beginning to access the damage to public property, but they don't have a total cost yet. If it tops $2.9 million, they'll apply for FEMA funds, but right now aren't counting on it.
"As far as money goes, there is no money to pay for this event," Graviet said.
Instead, individual cities and the county will be responsible for the bill. Homeowners will have to rely on their insurance -- a disappointment, no doubt, for some.
The World family says they're prepared to pay for the boulders and dirt: insurance for future floods.
"I'm sure it will be 20 years. It will happen again, but we'll be ready," World said.
Salt Lake County says if your home has been damaged, give them a call at 801-743-7100 and they'll send out a building inspector. They can't give estimates on work that needs to be done, but they can tell you if the property is safe to occupy.
Waters receding in Summit County
KSL News also spoke to officials in Summit County about the situation in Oakley. They say there were no new problems overnight, and that water levels have dropped.
The boil order is still in effect, and Summit County officials are also just getting started on totaling the cost of the damage.
-----
Story compiled with contributions from Andrew Adams and Sarah Dallof.
×
Photos
Related links
Related stories
Most recent Utah stories