This archived news story is available only for your personal, non-commercial use. Information in the story may be outdated or superseded by additional information. Reading or replaying the story in its archived form does not constitute a republication of the story.
(AP Photo/Douglas C. Pizac, File)SALT LAKE CITY -- Utah hasn't seen a firing squad execution since January 1996, but convicted killer Ronnie Lee Gardner is scheduled for execution after midnight June 18.
Related:
Now, a witness to the last firing squad execution and corrections officials are reflecting and looking ahead to Gardner's fate, barring a late reprieve.
Paul Murphy was a TV news reporter in 1996 when he witnessed John Albert Taylor being put to death. He still remembers that day vividly -- first the long wait, then the breathless fury that ended in a hail of gunfire.
"Still to this day it's probably the most shocking thing I've ever seen," Murphy told KSL Newsradio.
Waiting in a viewing room to the side of the execution chamber, Murphy saw the curtains pull open suddenly. After prison officials asked if Taylor had any last words, his execution followed just as swiftly.
"It was ready, aim, fire, and I couldn't catch my breath," Murphy recalled. "I remember watching his hand and his hand seemed to be clenched, and then after a few moments, it just released."
The moment haunted him long after that winter evening. For a long time, Murphy says it was the only thing he could think about. He saw the movie "Dead Man Walking." Though Sean Penn's character died by lethal injection, it still hit too close to home.
"I was a little bit stunned," Murphy said. "I mean, it's like having a knot in your stomach that doesn't go away."
Now at work at the Utah Attorney General's Office, Murphy still tries to come to terms with what he witnessed more than 14 years ago.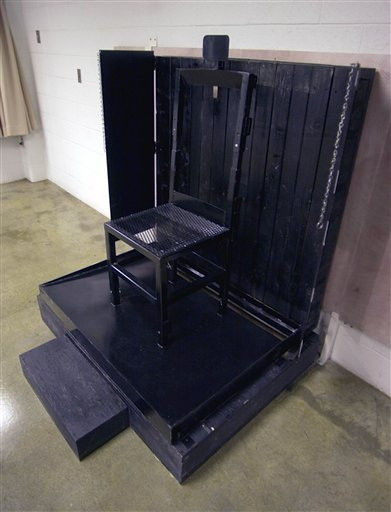 "No matter how you feel about the death penalty, to actually witness an execution makes you think long and hard about it," Murphy said.
On June 18, Gardner is scheduled to die in a 20-by-24 foot, specially-designed execution chamber at the Utah State Prison. Completed in 1998, it has only been used one other time: the lethal injection of Joseph Mitchell Parsons in 1999.
On each side of the chamber are two bulletproof, glass-enclosed witness rooms. At one end of the chamber is a seat equipped with straps. One the other end there is a wall with gun ports.
"A hood is placed over the head, the target is placed on the heart area, and yes, the inmate is given a chance to say his final words," Utah Department of Corrections spokesman Steve Gehrke said.
The firing squad is comprised of five volunteer, POST-certified officers. Each carries a .30-caliber rifle. Four of the rifles are loaded with live rounds, the other with a blank.
It gives shooters a way to rationalize and cope.
"There's always that kind of shadow of doubt in your mind if you're on the firing squad," Gehrke said. "Hopefully, psychologically that gives you a little bit of breathing room."
Witnesses of past executions say the squad is comprised of good shots. Murphy says in Taylor's case, it appeared the shooters left a single wound.
Corrections officials are very tight-lipped about how the shooters are selected. Their identities are kept anonymous -- partly for their privacy, and also for their protection.
"There are any number of problems that could occur," Gehrke said. "Safety risks, their own psychological well-being -- it's hard enough to deal with something like this on your own, I imagine, let alone letting everyone know what you were involved in."
E-mail: aadams@ksl.com
×
Photos
Related Stories