Estimated read time: 2-3 minutes
This archived news story is available only for your personal, non-commercial use. Information in the story may be outdated or superseded by additional information. Reading or replaying the story in its archived form does not constitute a republication of the story.
SALT LAKE COUNTY -- Master Antonio Martin teaches Tae Kwon Do at Morningside Elementary in East Millcreek twice a week, and he does it for free. All year long, students have learned self-defense from Master Martin, who hopes to make a difference in their lives. One of them nominated him for a KSL High 5.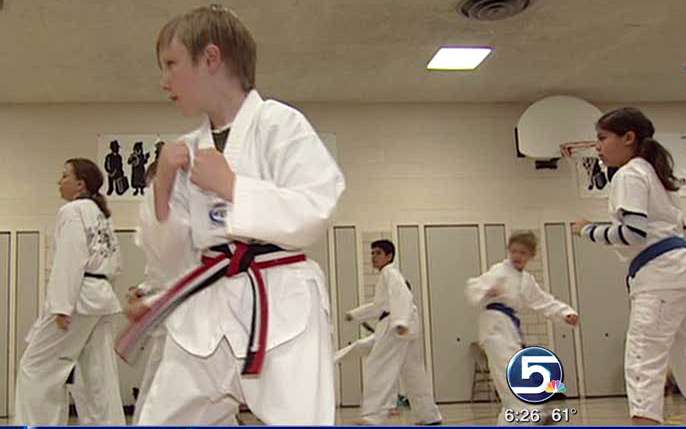 The energetic students are eager to learn the art of Tae Kwon Do even at 8 a.m., an hour before school starts.
Student Caleb Trent-Steil says, "It gives me the opportunity to have a little bit more fun than sleeping in."
Master Martin started the service in 2002, after the Elizabeth Smart kidnapping.
"I just wanted to do something for the students and their parents to let them know you don't have to be a victim. You can go ahead and fight back," he explains.
Caleb says, "I like how we're able to learn how to defend ourselves basically."
Besides teaching students self-defense, Master Martin also helps build self confidence.
Student Faith Steil says, "Sometimes when I can't do it, Master Martin helps encourage me."
He teaches them how to take control of their lives.
Edie Church's son nominated Master Martin for the KSL High 5.
"It's great to know that he knows what to do if he's ever in a situation where he feels empowered that he can take care of himself and knows what to do," she says.
"I think they have a great time," Master Martin says. "I think if they didn't enjoy it they wouldn't be here."
"It's kind of volunteer for me, but it's volunteer for them, too, because they don't have to be here," he adds.
The students learn lessons of respect and hard work to achieve their goals.
"I love the sport," Master Martin says, "I've been doing it for a long, long time. I think it's made a huge difference in my life and I hope it makes some sort of difference in their lives as well."
Edie Church says, "He's willing to give so much of himself to these kids and influence their lives. It's just incredible that he comes every morning and is positive. It's such a great influence on the kids."
Master Martin's Tae Kwon Do classes continue through the summer near the playground behind Morningside Elementary. Classes are Mondays and Wednesday at 8 a.m. and anyone is invited.
As part of the High 5, we gave Master Martin tickets to the upcoming screening of "The Karate Kid," along with a KSL swag bag.
If you'd like to nominate someone for a High 5, click here.
E-mail:bwalker@ksl.com
×
Related links
Most recent Utah stories