Estimated read time: 2-3 minutes
This archived news story is available only for your personal, non-commercial use. Information in the story may be outdated or superseded by additional information. Reading or replaying the story in its archived form does not constitute a republication of the story.
Ed Yeates ReportingTRAX construction in front of the Gateway Center came to a halt this morning after a large dinosaur bone was found.
The big bone was lying on a comfortable bed of soft sand and the people witnessing it were hardly there by coincidence. It was a staged event to celebrate one of the most elaborate IMAX 3-D films yet.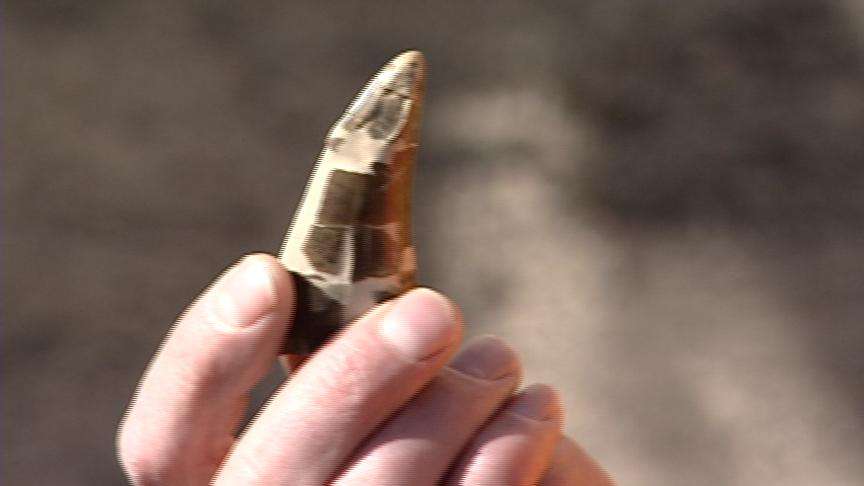 The bone here is actually a mold of one of Utah's larger dinosaurs, loaned temporarily for this event from the museum at Thanksgiving Point.
Dinos 3-D, now at Clark Planetarium digitally recreates how scientists envision the movements of the largest plant eater discovered so far. It's called Argentinasaurus and was found in what is now the Patagonian region of Argentina.
Don DeBlieux with the Utah Geological Society says, "It's one of the largest ever found. It's roughly in the neighborhood of a hundred tons."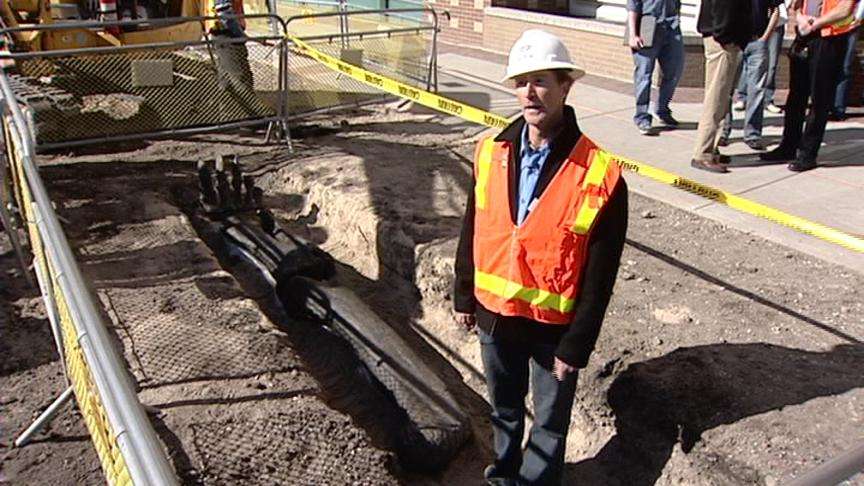 Now imagine these two "humungous" beasts coming at you, where you sit.
"As movies like this go, this dinosaur animation is probably the most detailed, the most sophisticated Imax has done so far," explains Seth Jarvis, director of Clark Planetarium. "Dinos 3D has the most ambitious computer graphics, scientifically accurate depictions of the largest dinosaurs ever to walk the earth of any film ever made."
We're talking about the biggest beast yet found in a region now known as Patagonia, Argentina.
"It's one of the largest ever found. It's roughly in the neighborhood of a hundred tons," says Don Deblieux with the Utah Geological Survey. Utah bone diggers have been looking for other big dinos as well. This steak-knife-like serrated tooth was found in Arches National Park. This summer, paleontologists will be looking for its owner.
Deblieux explains, "Unfortunately, all we have so far are teeth. So we're hoping somewhere out there there'll be a full skeleton." In addition to Argentinosaurus, Dinos 3D will depict a large meat eater called Giganotosaurus, which makes T-Rex look like a wuss. "Giganotosaurus would cause T-rex to tuck its tail under its legs and run," says Jarvis.
Cole, Mallori and Paige all saw the film. "Just makes me think how b big and powerful dinosaurs were," Cole says. "I think it was pretty cool," Mallori agrees. "I felt like I was kind of in the movie because all the dinosaurs were actually coming out at you," explains Paige.
Incidentally, Clark Planetarium is celebrating its fourth anniversary this week. In the past four years, it has hosted an unprecedented 1.5 million visitors.
×
Most recent Utah stories