Estimated read time: 4-5 minutes
This archived news story is available only for your personal, non-commercial use. Information in the story may be outdated or superseded by additional information. Reading or replaying the story in its archived form does not constitute a republication of the story.
FARMINGTON -- The couple charged with aggravated murder in the death of 4-year-old Ethan Stacy appeared in court Friday to hear the charges against them.
Aggravated murder charges filed against Sloops
The Davis County Attorney's Office formally filed aggravated murder charges Friday morning against Nathan and Stephanie Sloop.
Ethan's mother and stepfather have also been charged with second-degree felony child abuse, obstruction of justice and abuse or desecration of a body.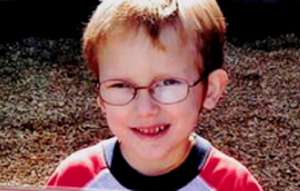 The Sloops appeared in 2nd District Court Friday afternoon to hear those charges. Stephanie Sloop, 27, cried.
Nathan, 31, showed no emotion, but as deputies led him out of the courtroom he whispered "I love you" to his mother.
Both waived the formal reading of the charges.
The judge continued the case until next week so the court could appoint new attorneys who have experience with death penalty cases. Though the county attorney did not file an intent to seek the death penalty Friday, prosecutor Tony Rawlings said at the hearing, "That's the direction this case is heading."
Charging documents reveal both Sloops abused Ethan for days, inflicting serious injuries. The documents state that abuse included "beatings, burning, drugging, isolating, malnourishing, leaving the child alone and unattended while suffering and refusing to seek vital life-sustaining medical attention."
Prosecutors claim it was that abuse that ultimately led to Ethan's death.
Nathan Sloop faces an additional charge stemming from damage done to a jail cell during his incarceration.
If convicted of the aggravated murder charges, the Sloops could face the death penalty or life in prison without parole.
It took nearly two weeks for prosecutors to get the returns they were seeking from the medical examiner, after Davis County Attorney Troy Rawlings said May 14 he would "file the most serious charges and seek the maximum penalties."
Shelby's law
Prosecutors are looking into the possibility of asking for the death penalty for Ethan Stacy's death under Shelby's Law. Passed in 2007, it makes child abuse deaths involving reckless indifference a capital offense.
Kimberly Hale came to court to support the law named after her 10-year-old daughter Shelby Andrews. Shelby died in 2006 after being abused by her stepmother and father. Hale says Ethan Stacy's case brings back bad memories, but she's grateful Shelby's death was not in vain.
Hale said, "We knew that Shelby was put here for great things. Unfortunately, it was her death that brought about those changes. So, it's kind of a bittersweet moment."
The county attorney's office has 60 days allowed by law to decide whether or not to seek the death penalty.
Hundreds of people come to support Stacy family
More than a hundred people packed the courtroom Friday. Many of them are strangers to the Sloops, but they wanted to show their support for four year old Ethan Stacy.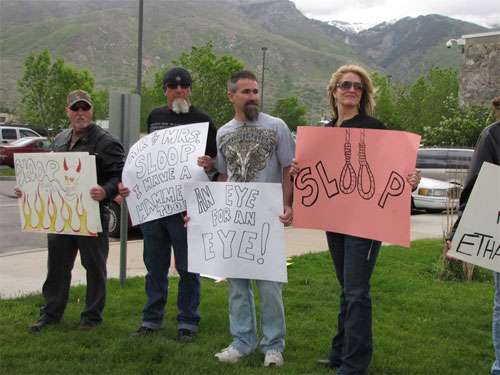 One of them was August Teusher. She was collecting signatures for a petition for a new law regarding parental custody.
The petition for Ethan's Law has also been going around online.
Ethan's Law looks at stricter standards to ensure a non-custodial parent takes proper care of their child during visitation.
"I think that kids are getting failed every day, and we as a people have stand up for what we believe in to make their lives change," Teusher said.
Several others who attended the hearing were carrying signs in support of Ethan. One sign said, "An eye for an eye," while another had the word Sloop with nooses making the two "O's."
The demonstrators say they were not part of any group but felt compelled to make a statement for justice.
"I'm hoping the justice system will do the right thing," said Dennis Turner. "But if they are proven murder charges against these two individuals, I don't want them locked up for 20-30 years, because Ethan didn't even have a chance at life."
Another Ethan Stacy supporter, Jennifer Jory said, "We just wanted to come out and support Ethan, and hopefully get some justice for him, if there is any to be had."
When asked if she had received any threats, Pam Sloop, Nathan's mother, told KSL Newsradio that she did, but she didn't want to go into details.
Ethan's body was uncovered May 11 near Powder Mountain after Layton police say the Sloops reported him missing the night before. He had just been in Utah for 10 days with his mom, who had summer visitation.
Ethan's body was returned to his father, Joe Stacy, and buried last week in Virginia.
------
Story compiled with contributions from Marc Giauque, Andrew Adams, Sandra Yi and Jennifer Stagg.
×
Photos
Related links
Related stories
Most recent Utah stories