Estimated read time: 2-3 minutes
This archived news story is available only for your personal, non-commercial use. Information in the story may be outdated or superseded by additional information. Reading or replaying the story in its archived form does not constitute a republication of the story.
Ed Yeates ReportingHave you ever wished you could bottle up some of that energy kids have playing outside? Well, get ready for this next story. Children's play is about to be converted into electricity.
Kids at play, they just keep going and going. Well how about a playground where their swinging and twirling is converted directly into electricity.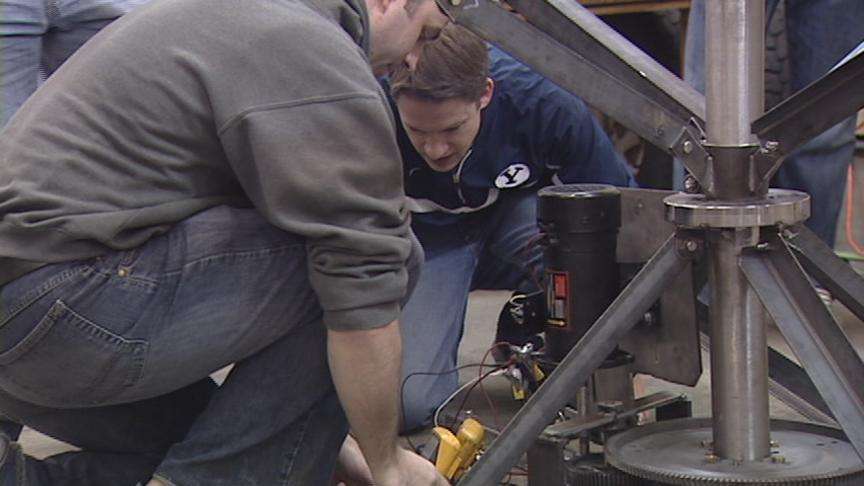 Brigham Young University mechanical engineers have designed a prototype merry-go-round that, as kids play, it generates electricity that is stored in batteries.
Adrian Williams is the BYU student team leader. "That's the whole principal behind this, to be able to generate enough electricity to get lighting into school rooms and basically help the literary problem in third world countries," he said.
It was in Ghana, while on a mission for the LDS Church, that Ben and Julie Markham came up with a dream. Since kids there play on a "twirlee" that pumps water, why not a merry-go-round that could literally light up dark classrooms?
"One thing we had to learn is how to put a control circuit in that would bleed a portion of the energy but not all the energy, because we did want the kids to have some fun," Ben said.
Speed is not a factor here. In fact, at just a moderate walking speed, you can generate enough electricity to power two lights. While we may only move at 10 revolutions per minute, it's gearing up 700 to 1,000 RPM for a conventional generator.
"We're planning on having about 40 to 60 students playing on several different pieces of equipment, not just a merry-go-round."
It's called an "Empower Playground." Imagine electrical generating zip lines, even a conventional swing that ratchets like a wrench.
Ideally you could get up to 350 watts of electricity, enough for three or four rooms, from the same power that 60-pound children would dish out climbing 10 feet of stairs in 35 seconds. Who says children don't light up our lives?
The first finished merry-go-round goes to Africa later this year for testing.
×
Most recent Utah stories