Estimated read time: 2-3 minutes
This archived news story is available only for your personal, non-commercial use. Information in the story may be outdated or superseded by additional information. Reading or replaying the story in its archived form does not constitute a republication of the story.
John Hollenhorst reportingDouglas Thayer, Attorney for Mapleton: : "I feel bad for the employees, I really do. That's a tough situation to be in. But for the city and neighboring towns, I think it's a great thing."
A major employer in Utah County announces a shut down, and officials in a neighboring city say "Goodbye! And Good Riddance!"
It's an explosives plant, blamed for deadly water pollution, and for numerous unplanned explosions.
If you've heard of the Ensign-Bickford company's Trojan plant, it's probably because of an incredible truck explosion in Spanish Fork Canyon last month. The truck that blew an enormous crater in Highway 6 came from the Trojan plant at the mouth of the Canyon.
Such shipments will soon become a thing of the past.
Ensign-Bickford officials insist their decision to close the plant by next February has nothing to do with explosions or pollution. But those issues are why some neighbors are delighted to see the company go.
Highway 6, with a gigantic crater. It's an unforgettable image. In the minds of Utahns, it will no doubt outlive Ensign-Bickford's Trojan explosives plant. The company's lawyer blames the trucking company, and says the plant's safety record is good.
James Holtkamp, Attorney for Ensign-Bickford: "I think it is. From what I know, I believe it is."
But a lawyer for neighboring Mapleton City says it fits a pattern.
Douglas Thayer, Attorney for Mapleton: "They have had over the years numerous explosions. People have died. Homes outside the plant have had windows blown out and doors blown out."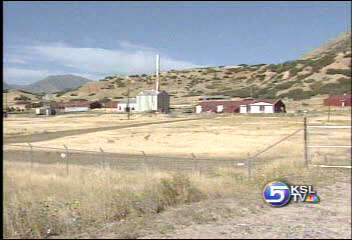 But bad water is an even bigger reason for bad blood with neighbors. Mapleton is suing the company for toxic contamination of groundwater.
Years ago the company paid for a project that only partially cleaned it up. They also settled out of court with cancer victims, some of whom died.
Douglas Thayer, Attorney for Mapleton: "I believe that was absolutely an admission of guilt. While specifically they say they admit no guilt. And I also believe from the evidence I've seen it's a very good chance those cancers were caused by the chemicals in that water."
James Holtkamp, Attorney for Ensign-Bickford: "We have not seen, nor do we believe there's any indication that there's a cause-and-effect relationship."
Add it all up, though, and it's likely that Mapleton won't give the plant a parade or a friendly sendoff.
Douglas Thayer, Attorney for Mapleton: "They like to say they were a good neighbor. But I know a lot of people, my client included, who didn't want them to be a neighbor at all."
James Holtkamp, Attorney for Ensign-Bickford: "Well that's unfortunate that Mapleton would have that point of view. We've tried hard over the years to be good citizens in the community."
The company says its pollution problems were mainly inherited from previous owners. In the pending lawsuit, Mapleton has asked a judge to shut down the plant. It looks now as though that's a moot point.
×
Most recent Utah stories