Estimated read time: 2-3 minutes
This archived news story is available only for your personal, non-commercial use. Information in the story may be outdated or superseded by additional information. Reading or replaying the story in its archived form does not constitute a republication of the story.
Tonya Papanikolas reporting A professional hockey player and his wife are helping with hurricane relief efforts by bringing some homeless families to Utah.
This afternoon Stacia Robitaille brought a grandmother, parents, two kids and their friend to her home in Heber.
The England family loaded up their bags and little dog, Zoey, as they prepared to drive to Heber. For the next two weeks, they'll be staying at the off-season home of Los Angeles Kings hockey player Luc Robitaille and his wife Stacia.
When the family arrived, they were overwhelmed.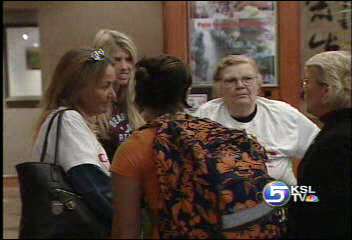 "Relda Bruce, Lost Home in Hurricane: "This is all I have left of my home is this key. But I have my family, and with God's help and good friends, we'll make it."
Stacia says after watching all the hurricane coverage, she and her husband had wanted to help.
Stacia Robitaille, Lending Victims a Home: "We had this huge house, 10-thousand square foot home in Utah. And I just started crying. I said, think of how many families could be in our home right now that have no shelter."
So she traveled to Louisiana, where she found the Englands at a shelter in Baton Rouge.
Stacia Robitaille, Lending Victims a Home: "We walked in and they were all standing in a circle praying."
Renee England, Lost Home in Hurricane: "We were praying for a home. And they seen us praying."
Relda Bruce: "We met her and from then on, just everything was just wonderful, miracle."
The England family was in awe as they toured their new quarters. Downstairs, the kids had a blast playing basketball on the sports court. They tested their own hockey skills.
Renee England: "That was about the first time you could see them relax."
"There's no words. I mean, how do you thank somebody for this?"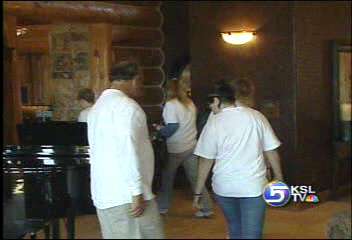 The sign over the door says "serenity", and that's exactly what Stacia is hoping the England family will find here in Utah.
The family says with an environment like this, they may just be able to start letting go of some of their worries.
The Robitailles have established a foundation to help hurricane victims. Thanks to fundraising efforts, they are working to bring four families to Utah and will even help the Englands make a down payment on a house.
Those interested in contributing can make donations though shelterforserenity.org or call (310) 441-9720.
×
Related links
Most recent Utah stories