Estimated read time: 2-3 minutes
This archived news story is available only for your personal, non-commercial use. Information in the story may be outdated or superseded by additional information. Reading or replaying the story in its archived form does not constitute a republication of the story.
SALT LAKE CITY -- A former close friend of Stephanie Sloop's, who lives in Florida, says their friendship fell apart when Sloop split from Ethan's father. But in the emotional crisis surrounding Ethan's death, Sloop apparently reached out to her former friend for help, in hysteria.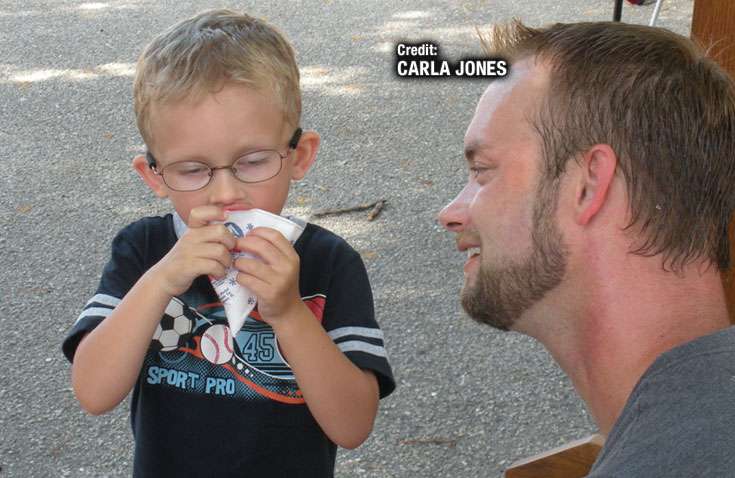 Carla Jones says she's turned over recordings of Stephanie Sloop's voice messages as potential evidence. She blames herself for not reacting in time to save the little boy she calls "Pumpkin."
Photos document years of friendship between Carla Jones, Ethan Stacy and his parents, Joe and Stephanie.
"We were very, very close. We did a lot of things as families and as couples -- double dates, whatnot, parties at our house," Jones said.
Speaking to us from our affiliate station in Orlando, Jones said when the Stacys' marriage fell apart, Stephanie forced her to choose: Joe or Stephanie.
"I love Joe and Ethan. They are extended family to us," Jones said.
Related:
Jones is infuriated by claims Stephanie was a nurturing mother. She said her former friend was wicked, twisted, with no patience for children.
"Stephanie is a very conniving, manipulating and deceiving person," Jones said. "She would sell her own mother if it was going to get her something."
"She was not a fit mother," Jones continued. "She was not a fit wife. She had a personality disorder. She had anger issues. She should have never had that child."
Jones believes Stephanie took custody of Ethan for the summer and brought him to Utah as an act, not of love, but of hate.
"So she could hurt Joe," Jones explained. "She knew the only way she could hurt Joe was by getting Ethan."
Jones said Stephanie recently tried to restart the friendship. Then three nights before Stephanie and her new husband, Nathan Sloop, reported Ethan missing, Jones said Stephanie left a series of frantic voice messages.
Related:
"She left crying, messages while she was crying, 'Ethan, he's crying. He won't stop crying. He just wants mommy. I don't know what to do. Please, please, call me. I don't know how to handle it. I don't know what to do,'" Jones said.
The final message, she now believes, may have come after Ethan died.
"It was absolutely hysterical, sobbing to where I couldn't understand what she was saying," Jones said. "If I had to look deep into my heart, yeah, I would probably have to say that Ethan probably was dead, if not close to being dead at that point. And it was her grief reaching out."
Now, Jones wishes she'd called Ethan's dad or the police.
"I actually feel terrible, and I have tremendous guilt," she said.
Jones said the death penalty would be too good for her former friend and her new husband. She'd like to see Nathan and Stephanie Sloop locked up for life, surrounded by pictures to remind them of what they did.
E-mail: jhollenhorst@ksl.com
×
Related stories
Most recent Utah stories