Estimated read time: 1-2 minutes
This archived news story is available only for your personal, non-commercial use. Information in the story may be outdated or superseded by additional information. Reading or replaying the story in its archived form does not constitute a republication of the story.
Sam Penrod ReportingNot returning overdue books in one Utah County city could mean a trip to jail. Prosecutors in Spanish Fork say they will now criminally prosecute extreme cases of overdue books from the city's library.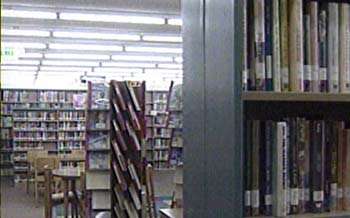 This brings to mind an episode of Seinfeld, when Jerry is pursued by a library cop known as 'Lt. Bookman' for a book he checked out 20 years earlier. Now in Spanish Fork one overdue book won't get you in trouble, but if someone doesn't return library property, despite a lot of warnings, they could face misdemeanor criminal charges.
Overdue items are a problem at all libraries, and the city attorney in Spanish Fork says even though people abusing library privileges, essentially stealing items from the library, were sued in small claims court, it was not very successful. But recently they prosecuted one person criminally and suddenly got a response.
It has been a crime in Utah for decades, known as "theft of library services" to not return items checked out from the library. Everyone we talked to today outside of the library agrees with this tougher new policy.
Rosemary Fechser, Spanish Fork Resident: "It diminishes what the rest of us have at the library, and I think people need to be responsible for the items they take out of the library."
Spanish Fork City makes it clear there will be no 'library cop' tracking down overdue books. In fact, they say the biggest problem is people who check out DVD's or expensive books with no intention of ever returning them.
So if you have an overdue book, don't ignore the notices from the library, just return it and you won't have to worry about going to jail or worse, getting your mugshot on the news for a library crime.
×
Most recent Utah stories