Estimated read time: 2-3 minutes
This archived news story is available only for your personal, non-commercial use. Information in the story may be outdated or superseded by additional information. Reading or replaying the story in its archived form does not constitute a republication of the story.
Bruce Lindsay ReportingIt's been a little more than a week since some 600 evacuees from New Orleans arrived here in Utah. Today some of those who were displaced during the hurricane reported for their first day of work -- a day many have been looking forward to.
"The main thing that was on my mind was "Where am I going to work at?"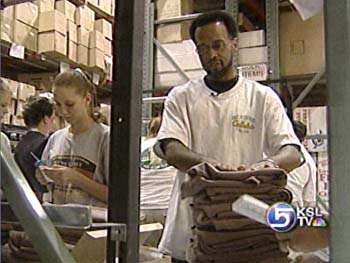 After a week full of uncertainty, today Adrian Andrews received an answer to the question many evacuees are facing -- employment.
Adrian Andrews: "I don't like to be the new guy, but you've got to start somewhere."
Andrews start came at Cabelas in Lehi. A former assembly line worker at an oil plant in New Orleans, Andrews says he couldn't feel more blessed.
Adrian Andrews: "I'm focused, and once you get focused everything else can go behind it."
A total of six employees reported for their first day of work -- all eager to get busy.
"We were trying to do a little tour of the building this morning and some were like ok, put me to work, put me to work, what do you want me to do?"
Employers did face a few challenges. Without the usual identification, companies must be willing to accept a government endorsed waiver that allows the evacuees to work. Also, companies who employ the evacuees must find a way to transport them from to and from Camp Williams. At Cabelas existing employees have volunteered to drive their new co-workers. In light of the situation, they don't see it as a burden.
Employee: "We're excited they're here and we're happy we could help them. It's a great opportunity for us and Cabelas to help the victims, and it's the least we could do at this point."
The evacuees not only welcomed the work, but the distraction.
George Lee: "Everyone is excited to have a job, to be able to work and to get their mind off of everything that has gone on for the past few weeks."
For Andrews and others, a new job in a new store really signifies a new beginning.
Adrian Andrews: "There is nothing you can do but appreciate it. And that's what I did. I took it and appreciate it."
For now, the jobs are only temporary, but based on performance they could become long-term.
×
Most recent Utah stories