Estimated read time: 2-3 minutes
This archived news story is available only for your personal, non-commercial use. Information in the story may be outdated or superseded by additional information. Reading or replaying the story in its archived form does not constitute a republication of the story.
SALT LAKE CITY -- Women are disproportionally under-represented in Utah's political process, especially on the Republican side. That's one of the key findings of a new Dan Jones poll for KSL and the Deseret News, in partnership with the Utah Foundation and the Hinckley Institute.
The poll of more than 1,000 Utahns statewide was conducted last week. It finds women are under-represented as delegates for both parties, in the caucus and convention process.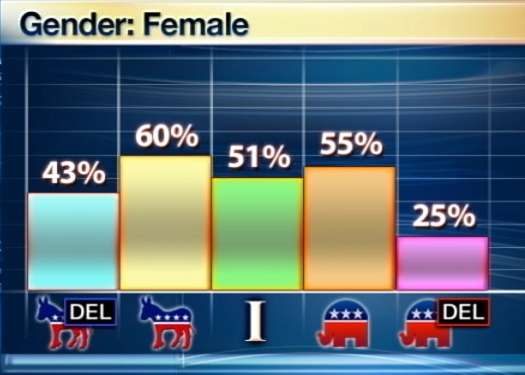 For Democrats, 60 percent of active voters are women; but women make up only 43 percent of delegates.
For Republicans, the gap is even wider. The poll finds 55 percent of active voters are women; but just a quarter of the delegates are women.
"To see that Republican delegates are 75 percent men is a little concerning -- not a little, it's a big concern. Only 25 percent of them are women," says Steve Kroes, president of the Utah Foundation.
"I think that means some of the issues women care about are not being brought as strongly to the forefront," Kroes continued. "I think if more women were elected as delegates, you'd probably see something like education have a place in the list of priorities of Republican delegates, where it's not there now."
Why the disparity? The poll didn't look at that, but one theory is that a lot of delegates have lived in Utah a long time. Men have been delegates in the past and continue to be.
---
Currently, 23 of the 105 seats in the Utah Legislature are held by women -- 15 for Democrats, 8 for Republicans.
---
"One, is the fact that [women] are left out of an insider's game; two, which flows from that, is that 86 percent of Republican delegates have been here more than 20 years, so they keep coming back," says Kirk Jowers, director of the Hinckley Institute of Politics at the University of Utah.
The current system seems to be having a clear impact on representation. In Utah's legislature, barely 1 of 5 seats are held by women.
"Utah was the first state to give women the vote, and yet we will be the state with the least number of elected women in office," Jowers says.
Representation of women in the Utah Legislature may drop further as three female lawmakers choose not to run again: Rep. Sheryl Allen, R-Bountiful; Rep. Christine Johnson, D-Salt Lake City; and Lori Fowlke, R-Orem.
Currently, 23 of the 105 seats in the Utah Legislature are held by women -- 15 for Democrats, 8 for Republicans.
In the Senate, only one seat belongs to a GOP woman, Margaret Dayton of Orem.
All of Utah's congressional delegation and statewide officeholders are men.
E-mail: jdaley@ksl.com
×
Related stories
Most recent Utah stories