Estimated read time: 2-3 minutes
This archived news story is available only for your personal, non-commercial use. Information in the story may be outdated or superseded by additional information. Reading or replaying the story in its archived form does not constitute a republication of the story.
John Hollenhorst ReportingA pilot was injured in Davis County today when his plane flipped over on landing. His landing gear apparently got into some mud next to the runway.
We don't know why the plane wandered off the pavement. Federal officials are expected to begin investigating soon, and perhaps that will give us some answers.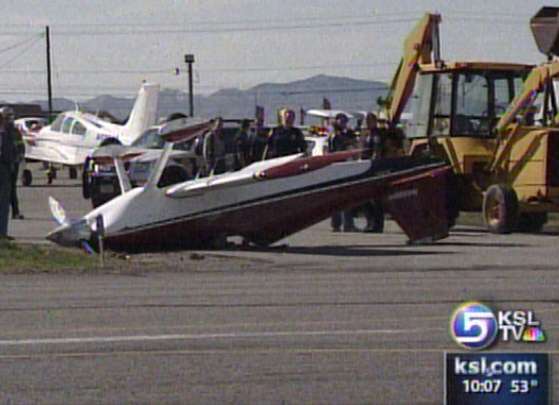 When rescue workers arrived, the plane was upside down with the pilot pinned underneath. The propeller of the single engine plane was bent in soft dirt near the intersection of the runway and taxiway.
Rescuers used a front-end loader to lift the plane and pull the pilot out from under it. Paramedics worked on him for a while next to the plane. He was conscious and talking at least part of the time. Later they moved him to a medical helicopter.
There was no immediate explanation for why the plane apparently veered off the pavement.
Deputy Chief Jim Rampton of the South Davis Metro Fire Agency said, "It was going in for a landing, did touch down, and then got into some really thick mud and flipped over."
So far the man has not been identified. He was conscious, so we can be hopeful he doesn't have major injuries.
According to a theory making the rounds at Sky Park, the plane's parking brake may have been unintentionally set. On landing, the locked-up wheels didn't spin. The plane became unstable, veered sharply and hit the dirt. That's just a rumor, though. There is no official confirmation on that.
This is the latest in a string of unlucky weekends for small-plane pilots. Beginning with the crash at Lake Powell February 25 that nearly killed Olympic wrestler Rulon Gardner, all but one weekend since has featured a plane crash or mishap in Utah. There doesn't seem to be any connection except a statistical one.
Light airplanes crashes do seem to be more common on weekends. In the most recent years we could find data for, 1997 and 1998, Saturdays and Sundays were significantly higher in plane crashes.
Perhaps it's because nonprofessional pilots get out and fly more on weekends, and our spring-like weather probably encouraged that lately.
Statistically though, plane crashes have been declining in recent years. It's statistically safer than driving. And in case you wondered, yes, there are more car crashes on weekends, too.
×
Most recent Utah stories