Estimated read time: 2-3 minutes
This archived news story is available only for your personal, non-commercial use. Information in the story may be outdated or superseded by additional information. Reading or replaying the story in its archived form does not constitute a republication of the story.
SALT LAKE CITY -- Sundays are usually quiet at the EnergySolutions Arena downtown, but this weekend was an exception. The Utah Jazz fought the Denver Nuggets to stay on top in Game 4 of the NBA playoffs.
They took a 3-1 series lead with a 117-106 victory.
---
The demand is high. It's better than anticipated. We've had strong sales today and we'll have a sold-out crowd tonight here in the arena.
–Clay Jensen
---
It's the first Sunday night home game for the Jazz in more than a decade, and some thought religious concerns might keep many fans at home.
"Our preference would probably not be playing on Sunday, but we have enough support in Utah to pull it off and have a sold-out arena," says Clay Jensen, vice president of ticket sales for the Jazz.
But a Sunday game meant there was a notable absence. Greg Miller, the CEO of the Jazz, did not attend. He's carrying on a Miller family tradition for Sunday night games.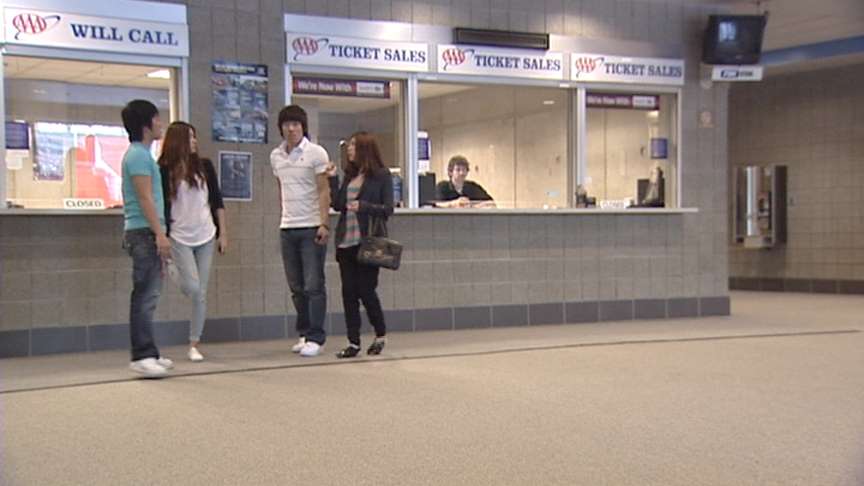 Fans, however, converged from all over Utah and from points far distant. "I think we're relaxing and enjoying what we like to do," says Nicole Bloxham, who came all the way from Idaho Falls for the game.
It's only when the Jazz make it into the playoffs that Sunday becomes an issue. The Jazz ordinarily avoid Sunday games to avoid creating conflicts for those whose religious beliefs call for more restrained activities on Sunday. NBA schedulers can't accommodate that preference during the playoffs.
So Sunday's showdown with the Denver Nuggets could have been a problem for some fans. Others, though, don't seem to care. Rodney and Trevor Ellis came all the way from Las Vegas to buy tickets for the big game.
"Because I love basketball and I'll see it any day of the week," Trevor says.
Related:
Rodney agrees. "I love sports seven days a week, 24-7, so I always make time for the sports," he says. "You gotta enjoy life."
Others visiting Utah found a few playoff tickets surprisingly still available on the afternoon of the game.
"Came in from Chicago and we just went by the stadium and said, 'What the heck, we'll go try to get tickets,'" says Steve Donnelly.
Jensen says the Sunday game didn't fans from buying tickets. "The demand is high. It's better than anticipated. We've had strong sales today and we'll have a sold-out crowd tonight here in the arena," he says.
Greg Miller, however, watched at home, carrying on a tradition established by his dad, Larry Miller.
"Larry made that decision a few years back and honored that," Jensen says. "I think that was very public, both here locally as well as nationally there were some stories done on it. It's something that Greg's choosing to continue to do as well."
Those who came expected the fans to be just as noisy as Friday night's crowd. "I think they love the Jazz," says Shawn Post of Idaho. "They'll show up if it's Saturday or Sunday."
E-mail: hollenhorst@ksl.com
×
Related stories
Most recent Utah stories