Estimated read time: 2-3 minutes
This archived news story is available only for your personal, non-commercial use. Information in the story may be outdated or superseded by additional information. Reading or replaying the story in its archived form does not constitute a republication of the story.
Alex Cabrero ReportingWith all this flooding going on you can't blame some cities for preparing early. Farmington is one of those cities.
Every year during runoff from the mountains Farmington Creek goes up a little. But with all the snow pack this year it might go way up, which is why sandbags are already in place. That's good news for the family who lives right there.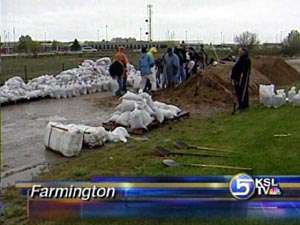 Fred Cabaness: "Been a real good place to live though, it really has."
For 40 years Fred and Betty Cabaness have called the house in Farmington home, plenty of time for lots of memories.
Fred Cabaness: "We've raised five kids and 25 grandkids…we stopped didn't we?"
Even a few days before his 80th birthday Cabaness is still a joker. But one thing he doesn't joke about is Farmington Creek, the water that runs just a stones throw from his back door.
Fred Cabaness: "We've never had it like this, have we Mother? No, it's bad, never."
The creek has flooded before, gotten into their home several times, the worst probably in 1983. But this year it could be even worse.
Paul White, Emergency Preparedness Director: "We know we'll have water, but we're not in panic mode in Farmington."
And they shouldn't have to be. Volunteers have placed hundreds of sandbags along the East side of the creek where Cabaness lives, just to be on the safe side.
Paul White: "It's a precautionary thing."
Farmington has come a long way since the floods from 20 years ago, like building culverts to handle the water. But still, you never know how high the water is going to get. That's why they use sandbags.
Thursday night volunteers stacked the bags two feet high for more than a hundred yards. Hopefully it's enough to stop any water that might come over the banks.
Betty Cabaness: "We're thankful."
Fred Cabaness: "I've been looking forward to them."
There are a few homes that sit along side Farmington Creek. They've seen no flooding just yet, but again, you have to be ready just in case.
×
Most recent News stories