Estimated read time: 5-6 minutes
This archived news story is available only for your personal, non-commercial use. Information in the story may be outdated or superseded by additional information. Reading or replaying the story in its archived form does not constitute a republication of the story.
BANDA ACEH, Indonesia (AP) -- The official death toll from the Asian tsunami climbed dramatically to 147,000 Friday and authorities held out little hope for tens of thousands still missing. Flying over miles of ravaged shoreline, a shaken U.N. Secretary-General Kofi Annan asked: "You wonder where are the people? What has happened to them?"
Indonesia said searchers found 7,118 more bodies in the shattered coastal town of Meulaboh, where families picked through piles of rubble. Indian officials raised that country's toll by 310, most of them killed in the Andaman and Nicobar islands, where 5,600 were missing and presumed dead.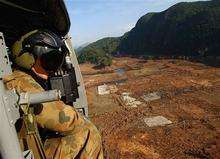 Sweden, Britain and France warned they feared that nearly 1,100 of their citizens missing in the disaster were dead.
Nearly two weeks after huge waves struck 11 countries in Asia and Africa, the lists of missing were still rising. Sri Lanka, with more than 30,000 known dead, added 528 names to its ranks of missing, for a total of 4,984. Indonesia, the worst hit country, estimates 101,318 dead and 10,070 missing.
Officials said some people trying to find loved ones were only now reporting them as missing. "First the people tried to find them among the dead, then went around the hospitals. Now they are coming to us," said K.G. Wijesiri at Sri Lanka's National Disaster Management Center.
The jump in official figures for dead and missing came a day after a United Nations official predicted the final toll would be far higher. "I think we have to be aware that very, very many of the victims have been swept away and many, many will not reappear," U.N. humanitarian chief Jan Egeland said.
Annan returned from a helicopter flight Friday over the western coast of Indonesia's Sumatra island unsettled by the devastation.
"I have never seen such utter destruction mile after mile," he somberly told reporters. "You wonder where are the people? What has happened to them?"
Secretary of State Colin Powell toured stricken areas in Sri Lanka and promised long-term American help to rebuild. "Only by seeing it on the ground can you really appreciate what it must have been like on that terrible day," he said.
People flying over Sumatra have reported a veritable skeleton coast, with bodies still floating at sea. Bleached concrete pads are all that is left of substantial structures, scattered corrugated iron roofs crumpled like paper the only evidence of flimsier houses. A few intact mosques rise eerily from wasteland.
U.S. Navy pilots and crewmen returning to the aircraft carrier Abraham Lincoln after seven hours of nonstop flying struggled to find words to describe the devastation.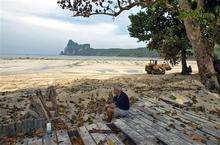 "You can't really explain. There used to be towns and cities there. All the people once had homes, lives," said Petty Officer 1st Class Scott Wickland of Cumberland, Wis. "Now there is nothing."
Touring the battered Thai resort of Phuket, British Foreign Minister Jack Straw was similarly moved by the suffering in Thailand, which has 5,291 confirmed deaths and 3,716 missing -- many of them vacationing foreigners.
"Bodies are still being washed up and unearthed," he said. "The scale of the effort still required is truly daunting."
In a bleak announcement, Sweden's government said Friday that 637 missing Swedes were feared dead, along with 52 known dead. It had been reporting more than 1,900 missing, but drew a distinction Friday between those known to be missing and some 1,300 Swedes simply unaccounted for.
French Foreign Minister Michel Barnier issued a similar warning for his country, saying "there is little hope" for 69 missing French citizens. Twenty-two others are known dead.
Straw said 49 Britons were known dead, but added that his government felt 391 others listed as missing were "very likely" dead.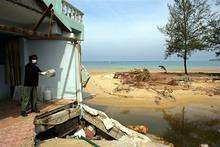 In Washington, State Department spokesman J. Adam Ereli said about 2,100 Americans remain unaccounted for. He said 17 others were confirmed dead and 20 presumed dead.
Thousands of aid workers are struggling to come up with an accurate count of deaths, but poor birth records, a lack of census data and the sheer expanse of destruction make it difficult. Bodies are decomposing and difficult to identify.
Indian officials said their death toll of 10,001 was determined from a direct count of bodies recovered.
Officials in Indonesia, swamped by the vast numbers, acknowledge they have been forced to make crude estimates, such as counting the number of bodies in one mass grave and multiplying that by the number of such plots. In other cases, they've estimated the population of a village, counted the survivors and assumed the rest are dead.
Annan's trip over Sumatra came a day after he met with world leaders in the Indonesian capital, Jakarta, to discuss how to turn one of history's largest-ever aid packages -- nearly $4 billion in pledges so far -- into food and shelter for the desperate.
Malaysian Prime Minister Abdullah Ahmad Badawi pledged help in rebuilding Aceh for up to the next 10 years, news reports said Saturday. Abdullah said the Organization of the Islamic Conference -- the world's largest Islamic grouping -- would help build schools and other infrastructure for the estimated 35,000 orphans in Aceh, the New Straits Times reported.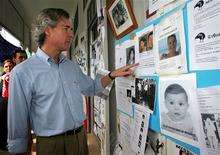 Private donations also are pouring in. A telethon in Saudi Arabia raised $67.4 million in 11 hours, drawing donations of cash, tents and blankets, even diamonds. In Norway, four young girls sold their Christmas presents, raising nearly $1,000.
The world's richest nations have agreed that debt repayments for tsunami-devastated countries should be frozen, Britain's Chancellor of the Exchequer Gordon Brown said Friday. The Group of 7 leading industrial nations will asks the larger Paris Club of creditor nations to go along at a meeting Wednesday.
Efforts accelerated to help survivors in Indonesia, where authorities said two dozen relief camps should be operating within a week. Tens of thousands lack clean drinking water and face the threat of disease.
In the hills above one wrecked area, three bulldozers prepared a 30-acre campsite on government land dotted with banana trees, chili plants and grazing cattle.
A refugee at one makeshift shelter, Marlina Hutabarat, worried that as the region's 500,000 newly homeless people move into large camps, their communities will be scattered.
"I'm still looking for my two sisters," she said. "If I move, people won't know where to find me."
(Copyright 2005 by The Associated Press. All Rights Reserved.)
×
Most recent News stories