Estimated read time: 3-4 minutes
This archived news story is available only for your personal, non-commercial use. Information in the story may be outdated or superseded by additional information. Reading or replaying the story in its archived form does not constitute a republication of the story.
SALT LAKE COUNTY -- A major spring storm caused problems throughout northern Utah Wednesday, especially for people driving in Parley's Canyon.
The Utah Highway Patrol says a rain and hail storm quickly saturated the hillside and sent gravel and debris flying into vehicles.
At least five cars had broken windows and body damage, and some drivers were even wounded.
"It was very scary for most motorists. They said that everything was just coming at 'em at once, and they didn't know what to expect or what to do. So, as soon as they could, they just pulled over immediately and called police," says UHP Trooper Mary Kaye Lucas.
Drive in canyon takes couple for unexpected turn
Mike Bates wanted to be closer to Mother Nature when he purchased a new home up Parley's Canyon -- but he certainly didn't want to get as close as he did on a drive Wednesday afternoon.
"There had been some bad hail, and we thought we could beat the storm up there because we could see blue skies ahead," he said.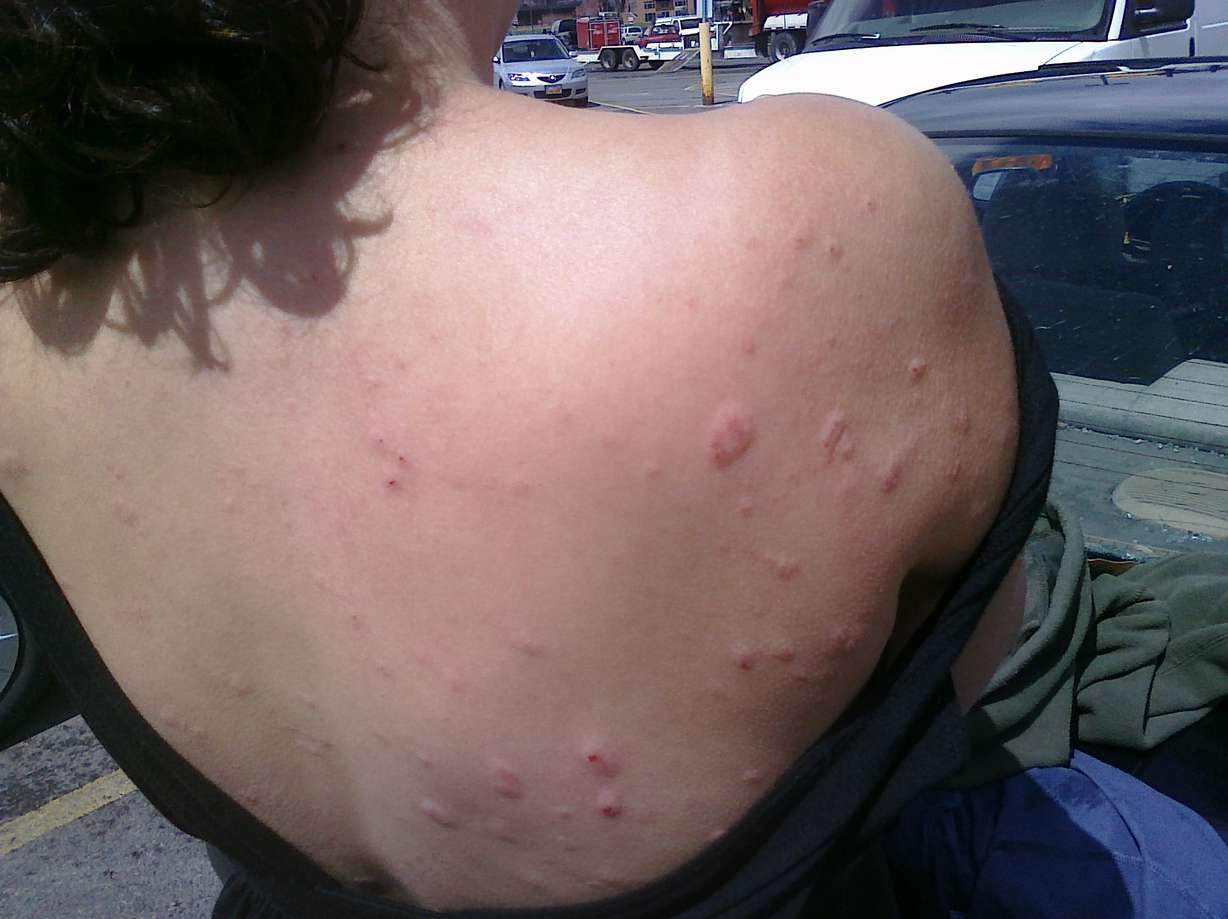 He, his wife Rebecca and their dog piled in the car and headed east on I-80. Their scenic drive quickly took a different turn.
"Saw the clouds start funneling and I started to worry that we were going to see a tornado," he said.
Whether it was actually a tornado Mike says he may never know, because suddenly he couldn't even see the car in front of him. He watched a road sign fly by and then, he said, the windshield "started to get pelted. Got three holes in the windshield, and then my window blew in."
"I turned my back and got my back all sprayed with debris," Rebecca said.
"Just had a fleeting thought as my sunglasses got ripped off, and I kind of covered and went into the fetal position," Mike said. "Thought I was going to die."
Mike asked his wife if she was OK. Her back took the brunt of the blow from the broken glass and rocks. Rebecca is pregnant, and she says her "motherly instinct" kicked in. "I suppose I protected my belly and face," she said.
They weren't alone on their wild ride. The Utah Highway Patrol says at least five vehicles were caught in the storm.
UHP says it's possible the rocks that hit the Bates' car came from a landslide, despite their claim they saw a funnel cloud.
"I haven't seen the mountainside come down like this in a while," Lucas said. "But with all the rain and all the wet that came so fast and all at once, you know that's kind of what happens."
Rain has North Salt Lake residents nervous
In North Salt Lake, residents are uneasy. Monday, a support wall collapsed in one homeowner's backyard, sending mud and rocks tumbling into houses below. Wednesday's rain isn't helping the situation.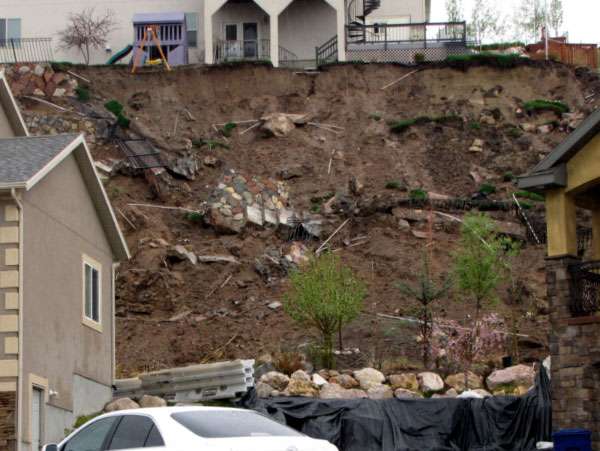 The city has now put up barriers, sandbags and ground covers to help channel any additional debris away from two houses in Eagle Pointe Circle.
But homeowner Bonnie Mendez says she's been told to stay at their own risk. Thunderstorms, rain and a steady stream of on-lookers hasn't helped ease the tension.
"I'm very jittery," Mendez says.
Tuesday night, the families were told to evacuate.
"They did tell us that that house (above) had moved another 1/8 of an inch in less than four hours," Mendez says.
She also got a letter from the city telling them that while the natural soil in the area was stable, the fill brought in to the land above them was not.
Mendez still isn't sure what she'll do. She's staying at a relative's house at night until the situation stabilizes.
KSL News has also received reports of heavy rain and hailstorms in the southern part of the Salt Lake Valley and Utah County. We have several images of what those storms left behind in our photo gallery to the right.
-----
Story compiled with contributions from Marc Giauque and Jennifer Stagg.
×
Photos
Related links
Most recent Utah stories